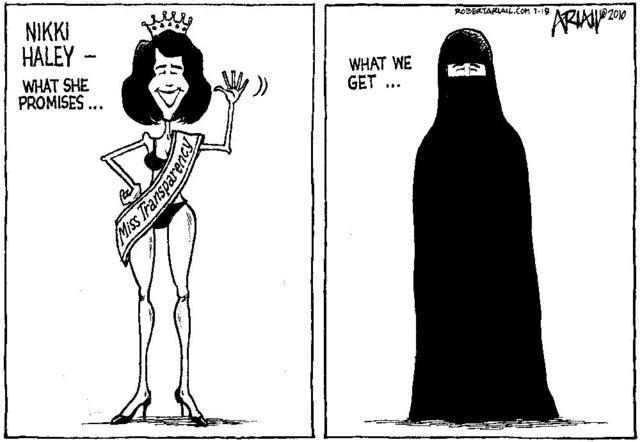 By FOX Carolina Staff
COLUMBIA, S.C.An editorial cartoonist has published a cartoon depicting South Carolina Republican gubernatorial candidate Nikki Haley wearing a burqa, clothing typically worn by Muslim women.
Robert Ariail posted the cartoon on his website Tuesday.
The first frame reads, "Nikki Haley: What She Promises." The picture shows Haley dressed as a beauty queen with the words, "Miss Transparency" on her sash.
The second frame reads, "What We Get." The illustration shows Haley dressed in a burqa.
On his website, Ariail writes that he is contrasting Haley's campaign message of open-door government with her recent closed-door meetings and refusal to release e-mails. The cartoon is not an ethnic or racial slur, Ariail said.
Haley's campaign has declined to comment.

Copyright 2010 by foxcarolina.com. All rights reserved. This material may not be published, broadcast, rewritten or redistributed. Got a story idea? E-mail news tips to foxcarolinanews@foxcarolina.com or call the newsroom 24/7 at 864-213-2121.