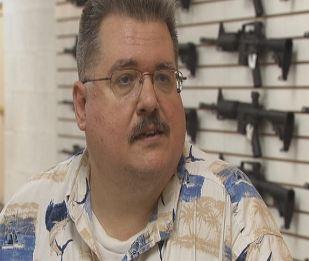 MESA, AZ (CBS5) -
Terry Kennedy said he's a little rusty.

While shooting this weekend at Caswell's Indoor Range in Mesa, Kennedy wasn't exactly blasting the bulls-eye.

But it's not a stretch to say this retired sheriffs deputy can still handle his handgun, especially when you consider this -- Kennedy is legally blind.

"That first year, my vision went from 20/20 to 20/200," Kennedy said.

Terry has macular degeneration. He describes it as having gaps in his vision.

"Working on something in the house, you set a screw down and you go to pick it up and it's not there. Then you glance back down and you find it."

As much as Kennedy loves to shoot, he loves one activity even more -- driving.

But unlike his sight at the range, everything is completely clear behind the wheel for Kennedy, thanks to a special pair of eyeglasses.

"There are so many people out there that could benefit from these glasses and they're not cheap glasses they're $2,000 a pair," said Randy Shepherd, Kennedy's friend.

Shepherd told CBS 5 News about the "Driving Forward Foundation" that Kennedy recently started to help people afford them.

CBS 5 decided to help Pay It Forward with $500 towards the foundation.

Kennedy will try and raise more money on June 11th with a fundraiser at the Rio Salado shooting range in Mesa.

He said by then, the rust will be gone and he'll prove that a guy with blurry vision can still be a sharp shooter.

For more information on the event, call 480-788-3330 or visit drivingforwardfoundation.org.