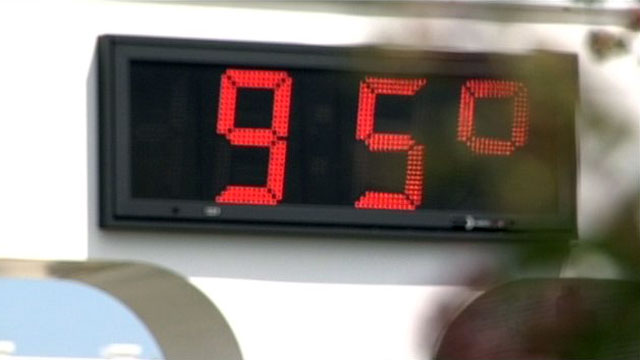 A thermometer at a Greenville County bank shows just how hot it was Tuesday. (July 12, 2011/FOX Carolina)
GREENVILLE, SC (FOX Carolina) -
Forecasters said the Upstate can look forward to another scorcher Wednesday before cooler air moves into the region.
The National Weather Service issued a heat advisory for most of the Upstate from 11 a.m. to 9 p.m.
Forecasters said temperatures will climb into the upper 90s and lower 100s. They said the high heat combined with the high humidity will make it feel more like between 105 and 109 degrees.
The weather service said people who work outside should take frequent breaks in shaded or air-conditioned areas. They said people who plan to be outdoors should wear light-weight and light-colored clothing and drink plenty of non-alcoholic and non-caffeinated beverages.
FOX Carolina meteorologist Alexandra Wilson said temperatures begin to decrease Thursday with highs forecast in the lower 90s for the Upstate. She said temperatures will be in the middle and upper 80s by the end of the week.
Wilson said there is a 40 percent chance of afternoon thunderstorms from Thursday until Saturday.