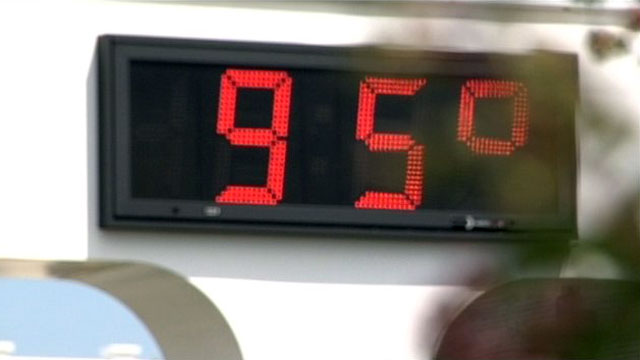 A thermometer shows the temperature at a Greenville Co. bank. (File/FOX Carolina)
GREENVILLE, SC (FOX Carolina) -
Wednesday's record-breaking heat will be followed by an increase in humidity on Thursday.
FOX Carolina Meteorologist Kendra Kent said Wednesday that the mercury should top out above the 98 degree record at the Greenville-Spartanburg International Airport that was set in 1888.
Humidity levels were low Wednesday, which meant the air felt much like the temperature and not oppressive as it has over the past few weeks, Kent said.
Kent said the temperatures will be slightly lower on Thursday, but humidity levels will increase, leading to heat index values of more than 100 degrees.
The National Weather Service issued a heat advisory for the southern Upstate and northeast Georgia through Thursday evening because of the increased humidity.
Copyright 2011 FOX Carolina. All rights reserved.