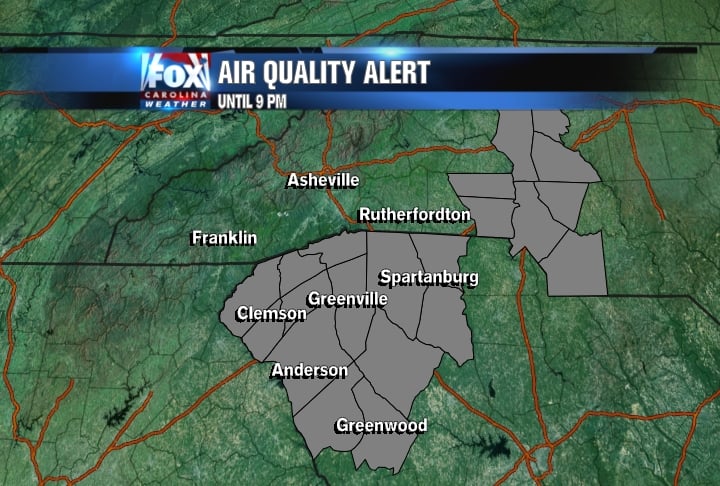 It was a record-setting day across the Upstate yesterday, as we topped out at 100° at GSP airport. The old record - 98 degrees - had been set back in the late 1800's, so this was a long-standing record that fell on Wednesday. Like on Tuesday, Asheville was one degree shy of the record yesterday. While we had very high heat over the past two days, the air had been very dry, meaning we weren't dealing with heat index values higher than the actual temperature.
Well, today that's going to change. Already this morning we have dewpoints in the upper 60s and low 70s, which is near - if not at - oppressive levels. So even though temperatures will be a degree or two lower than yesterday, it will feel hotter today thanks to the high humidity. Heat Advisories have been issued for southern Upstate and NE GA counties, where it will feel like it's between 105 and 107 degrees (see image for specific counties).
Highs will be close to records - especially in the Upstate. The GSP high is expected to be 98°, while the record is 99°. In Asheville, the high will top out around 90 degrees, while the record is 93­°.
Air Quality Alerts are in effect again for the Upstate, where we'll deal with high levels of ground-level ozone today.
An isolated shower or storm will be possible this afternoon/early evening, but most will stay dry under partly to mostly cloudy skies. Better chances of scattered rain/storms come on Friday and especially Saturday.
Of course, we continue to monitor T. S. Emily - which could bring 6 to 12 inches of rain to Haiti and the Dominican Republic today (isolated spots could see as much as 20 inches)! The latest models bring Emily close to the SE US, but have it turning northeastward before making landfall. That would mean the biggest threat would be dangerous rip currents and large swells - but we'll continue to watch Emily and any changes to the forecast track as we get closer to the weekend. For the latest from the National Hurricane Center, click here.