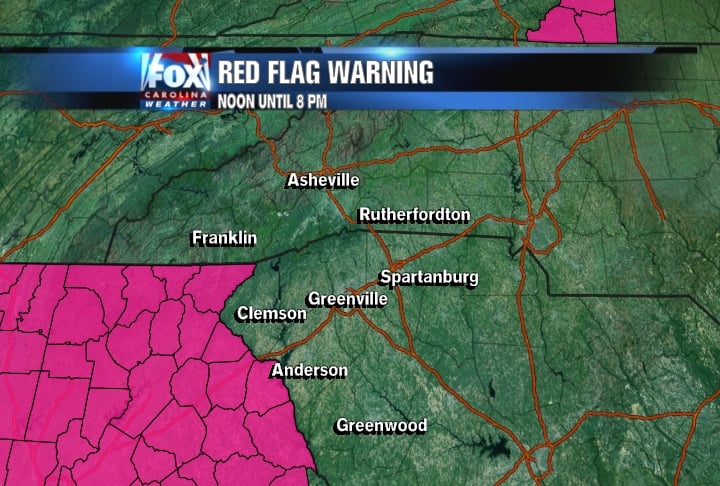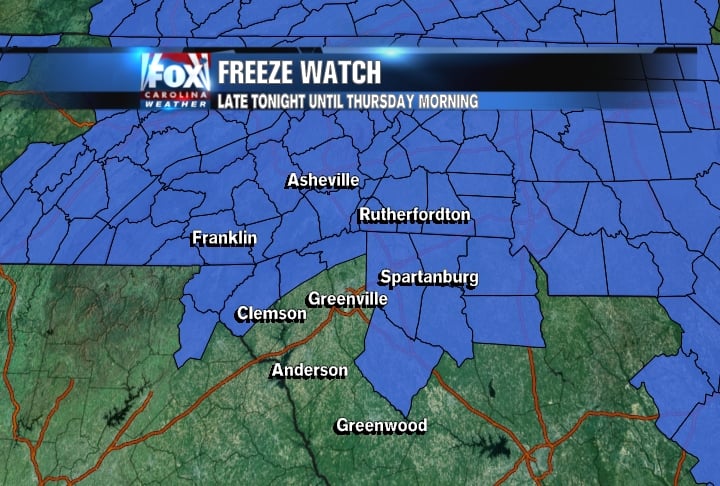 Brrr - it's a chilly morning across the area! Freeze Warnings continue for our NC Mountain Counties, where temperatures have dipped into the 30s. The higher peaks have registered temps around and below the freezing mark - so hopefully you've gotten the plants ready (and as Kendra said, given your pets somewhere warm to sleep)! Also, you'll need to get yourself ready before you step outside - you'll want more layers on this morning, no matter where you live. Upstate temperatures are starting off in the 40s and low 50s.
After the cold start, temperatures will remain about eight to ten degrees below-normal this afternoon, despite lots of sun. Highs will rise into the mid 60s in the Upstate, while WNC highs will only hit the mid 50s. As I said, sunshine will be out in full force (as opposed to the increased cloud cover and few raindrops we saw yesterday).
The dry conditions and another day of breezy winds will keep the fire danger high. Red Flag Warnings have been posted for our NE GA Counties - in effect from noon until 8 PM (see image at right). While Upstate and WNC Counties are not included within that warning, the fire danger in these locations will remain elevated. Everyone should continue to use caution, as fires will be able to spread quickly if started.
Tonight brings another round of very cold temperatures. As of this writing (around 6:15 AM), a Freeze Watch is posted for all of our WNC territory, as well as our northern and eastern Upstate locations (NOTE: I expect this to be upgraded to a Freeze Warning later this morning). Temperatures overnight will dip to around 30 in Asheville, so we're expecting a widespread freeze in WNC. In the Upstate, the forecast low is 35 degrees for areas like Greenville and Anderson - but eastern and northern spots are typically colder, so a freeze is possible there. Bottom line: DEFINITELY protect your plants/bring them inside if you live in WNC, and I would advise you take the same action in Upstate areas (especially for your sensitive or expensive plants). The good news is that the air will be so dry that frost isn't likely tonight.
Thursday night into Friday morning will bring the potential for patchy frost in the Upstate, while Mountain temperatures will again flirt with the freezing mark. Milder conditions will roll back in just in time for the weekend.