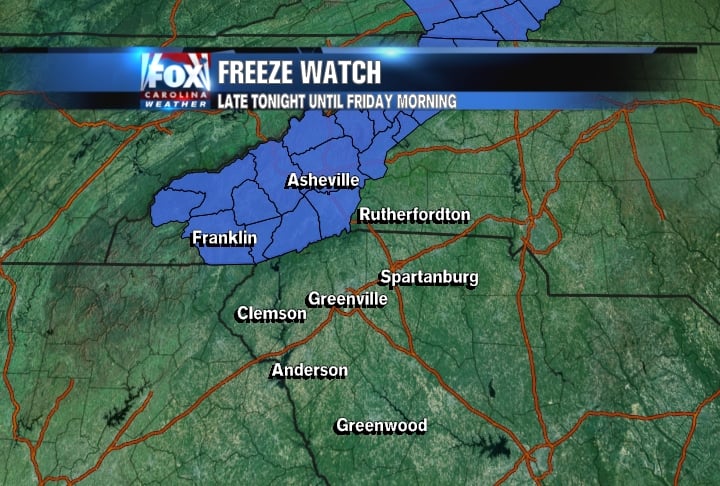 Wow, it is a really chilly morning out there! We have Frost Advisories and Freeze Warnings in effect for the entire area through 9 AM - as temperatures have dipped into the mid/upper 30s through most of the Upstate and the upper 20s/low 30s through much of WNC.
Skies are clear across the area this morning, and we'll keep that sky cover through the day. Sunny skies and dry conditions will keep the fire danger on the higher side - however, the winds won't be as breezy as they've been the past few days, so there's some good news in regards to the fire threat.
Despite all the sun, high temperatures will remain below-normal today. Upstate towns will top out in the upper 60s, while WNC highs will be in the low 60s. Today will feel fairly similar to yesterday - although the lack of wind gusts may make spending time outdoors (especially reading) a little bit easier!
Overnight lows will drop into the upper 30s for the Upstate towns, so some patchy frost will be a possibility. We already have a Freeze Watch out for most of WNC, as temperatures there will drop to the upper 20s and low 30s. See the image at right for more details on the watch.
Friday highs will be right around normal, in the low 70s in the Upstate and the mid 60s in the Mountains. We'll stay bright and dry tomorrow - and through the weekend. Weekend highs will be warmer - Upstate spots will hit the 80s by Sunday! The next chance of rain won't arrive until the middle of next week.