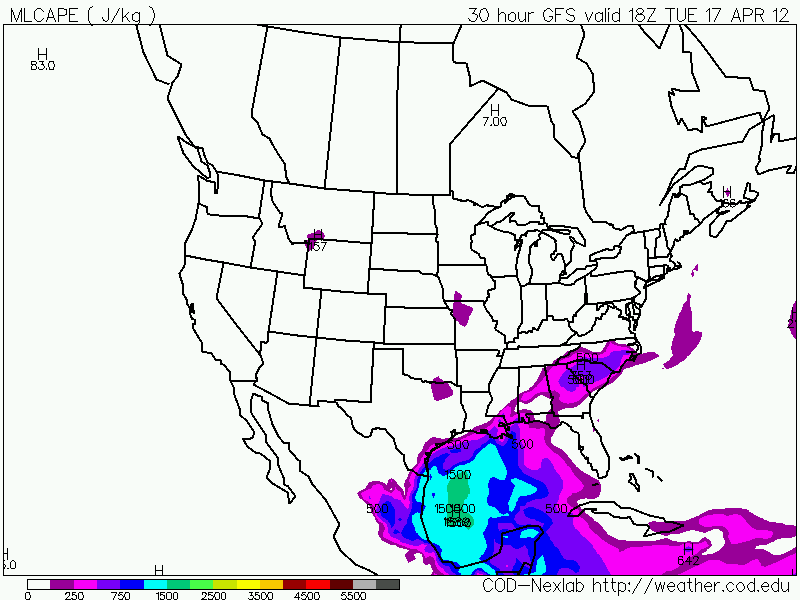 Picture shows GFS instability (CAPE) for midday tomorrow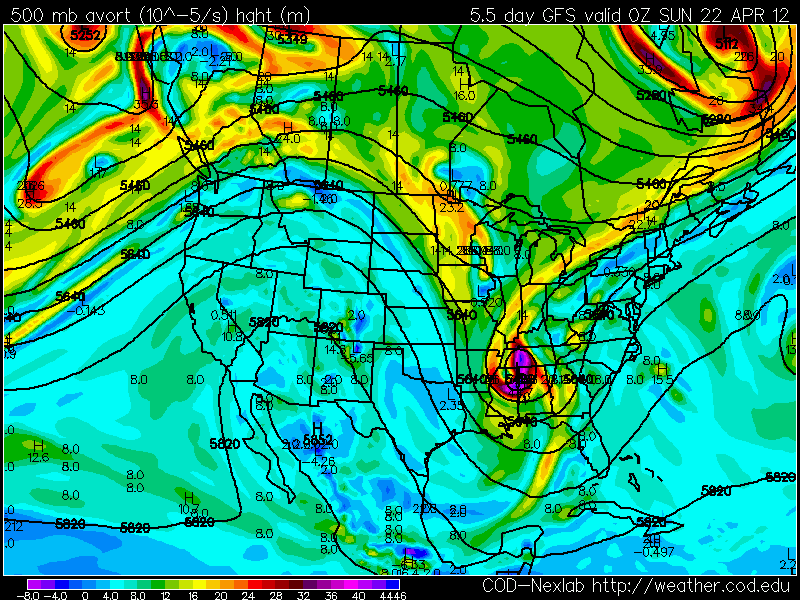 GFS model showing 500 mb vorticity for midday Saturday.
Our weather pattern has turned more active on us for this week and the upcoming weekend! Isolated showers and a couple t-storms will be possible today, but most spots will stay dry and the severe threat isn't high. But, by Tuesday we'll have an approaching cold front and warm/unstable air that will combine to produce some strong to severe storms in our area. The image showing the purple colors over the Carolinas indicates that there will be enough instability for storms to develop and intensify rapidly. The cold front will help to focus those storms along a line during the late afternoon and evening. The front will be slow to press through, which will leave a few lingering showers in the forecast Tuesday night and Wednesday morning. I don't expect tornadoes, but can't rule them out tomorrow. Damaging wind and hail will be the main threats with any storm that develops.
Thursday and Friday should be rather quiet, then things become more active by the weekend. See the picture of the GFS model's vorticity forecast for Saturday... we'll have higher vorticity values moving in through the day, which enhances uplift and helps to promote strong-severe storms (positive vorticity advection). This is one of the synoptic ways of forecasting severe weather outbreaks. But, in this case we have some factors playing AGAINST a big storm day.
A cut-off low and a deepening surface low will traverse the Carolinas and GA Saturday into Sunday as it looks now. There's a lot of upper level wind dynamics and low level shear going on as the system moves in, but the one encouraging factor is that instability/CAPE will be fairly low. This means that any storms that develop won't have a lot of energy to access. This will likely keep the number of severe storms down, but periods of heavy rain, thunder, and gusty winds will be the rule on Saturday. Timing could still change, but for now it looks like most of the weekend will be wet. Sunday may end up being dry and windy by the afternoon.
Tonight at 10 I'll be talking a little bit about the experimental tornado warnings being used in Kansas and other states. With the experimental warnings, you have 3 kinds of tornado warnings... tornado on radar, tornado on the ground, and large destructive tornado on the ground threatening life. More info here:
http://www.accuweather.com/en/weather-news/catastrophic-and-unsurvivable/63553
I'll blog more about my thoughts on this in upcoming days. All in all, I think it's a great idea, but I hope it doesn't add more confusion for the general public.