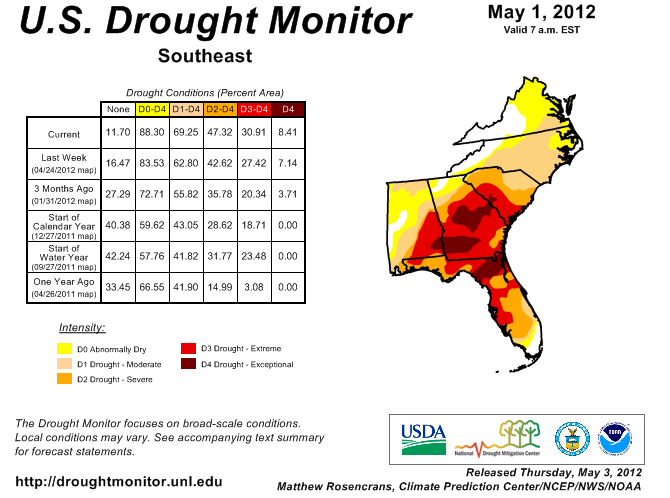 We have some much-needed rain on the way, but it won't be a super-soaking system. We'll be looking at up to an inch of rain as a cold front approaches tonight and sweeps through late Tuesday and Wednesday.
The severe weather threat won't be all that high for either Tuesday or Wednesday, but I do think both afternoon/evening timeframes we'll have the threat for a few strong storms with damaging wind, torrential rain and frequent lightning.
The latest U.S. Drought Monitor (see image attached to post) has most of the Upstate in severe drought, while the southern Upstate is in extreme drought. Northeast GA is generally in severe drought, while the mountain areas are fairing much better. We've had several months in a row of below normal rainfall outside the mountains, and that cumulative effect has caused a lot of concern. The next few weeks are crucial, in my opinion, for our drought situation. If we don't get some heavy rain-makers through June, we'll be left with only a slim chance of widespread rain for July and August (unless we get a tropical system, which we are actually due!).
Once the showers and storms clear out on Wednesday night, we'll notice some cooler, better feeling air! Thursday and Friday will be really nice, as a cool high pressure dominates and brings in sunshine, lower humidity, mild days and cool nights! The pleasant forecast should stick with us for Saturday, then another chance for beneficial rain on Sunday.