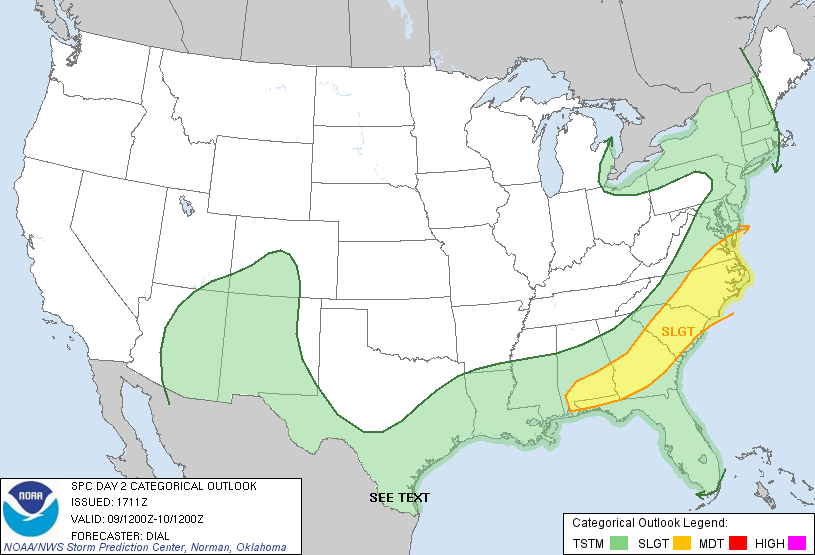 Slight risk for parts of the Carolinas and GA tomorrow (from SPC)
As of this evening, the bulk of the rain and storm activity has stayed in western and central NC. That's where our cold front is located. It's a bit "hung-up" in the mountains now, but will get pushed through the Upstate and northeast GA tomorrow. The big question is... how quickly will the front move through? If it clears the Upstate before noon, then we'll only see a few showers and the strong storms will stay to our south. If the front moves slowly, it will be around to ignite storms for the Upstate and northeast GA (mainly south of I85). The Storm Prediction Center has the southern Upstate in a slight risk for severe storms. Timing for storms would likely be early to mid afternoon, with clearing expected toward the evening and overnight.
Any storm that develops Wednesday will have the chance of producing damaging wind or small hail, but the tornado threat is VERY low. Periods of heavy rain and lightning will also be possible. We'll clear by late Wednesday, then feel some NICE air rolling in from the north!
Thursday and Friday will be seasonably warm, with low humidity and sunny skies! Overnight lows will be in the 40s for the mountains and low 50s in the Upstate for Wed-Fri nights. So, maybe we can give the AC's a break for a bit!