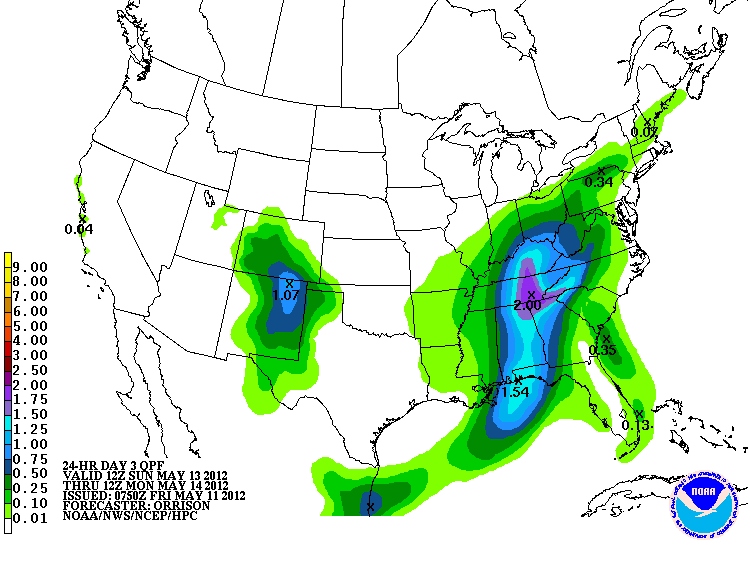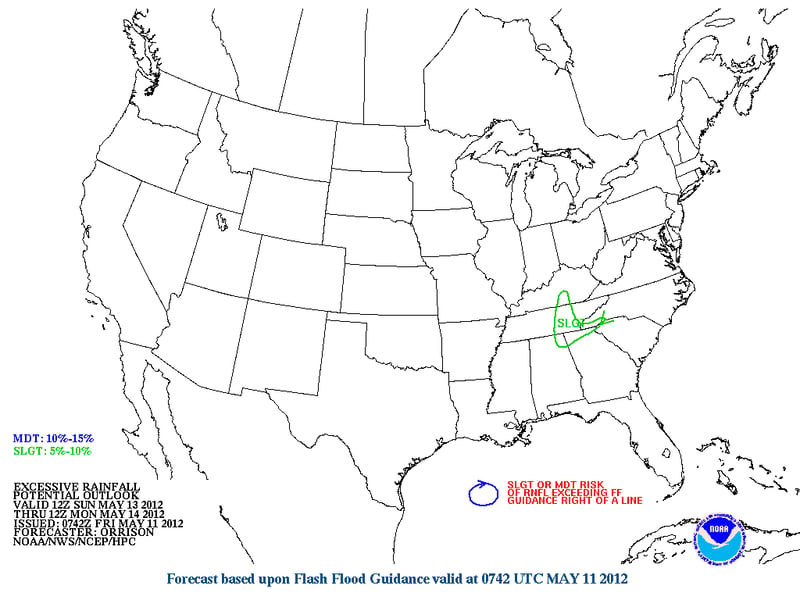 Enjoy Friday!: Since we are in the middle of May, we couldn't ask for much better conditions than what we will have today. Friday will feature a sunny, blue sky, low humidity and temperatures in the 60s for lunch before reaching the middle 70s later this afternoon. If you have plans to get into town for dinner, get out to the baseball/softball/soccer field this afternoon or just have some fun in the yard, you'll enjoy it! There is zero chance for rain this afternoon.
Saturday: The odds are in our favor of staying completely dry on Saturday. However, we will be focusing on a system approaching from the Mississippi Valley by tomorrow. Most of the rain from this system will come down in Alabama, Tennessee and Georgia by late Saturday, but we'll call for an outside chance of an isolated shower or storm by Saturday evening and after dark.
Mother's Day: Just as Kendra mentioned in her post yesterday, it still looks like a good call to go with a good chance of rain around here for Sunday. Even though occasional, spotty rain and a few storms will be likely, it certainly won't rain all day. There's even a decent chance that all of the rain could hold off until Monday. At this point (three days in advance), it's tough for us to know when most of the rain will fall. Hopefully, most of Sunday will be dry for your plans with family. The image to the right shows a rough estimation on the amount of rain we could be dealing with - starting Sunday morning and ending Monday morning. Even though 1"-2" is shown, many times these rain projections are over-estimated. I would say expecting 0.5" for Mother's Day is about right. Some towns will see more and some will see less... which is how it always works.
Excessive Rainfall Outlook: Even though it's just a slight chance (shown on the second graphic), we aren't mentioned in these types of graphics often. Pay attention to the possibility of a flooding threat from Sunday through Tuesday.

Beyond Sunday: Just as our 7-Day images on the weather page suggest, the next seven days will feature more rain opportunities (Monday through Wednesday) without any high heat. In fact, Monday looks like the best chance of widespread rain and could even be heavy rain with high rain totals. Even though we won't have any sort of heat wave during the next seven days, these systems moving in from the west will pull some soupy humidity from the Gulf of Mexico and that humidity will be apparent from Sunday through the middle of next week. The humid air, along with another weak system rolling in from the Mississippi Valley, will help prolong the chance for scattered rain and storms.