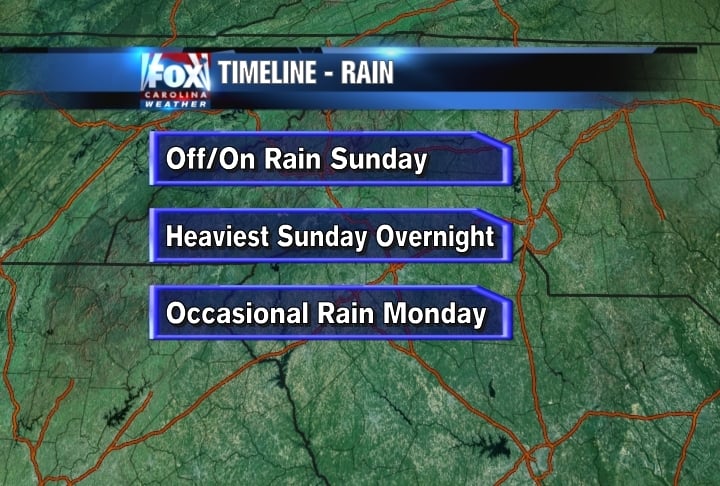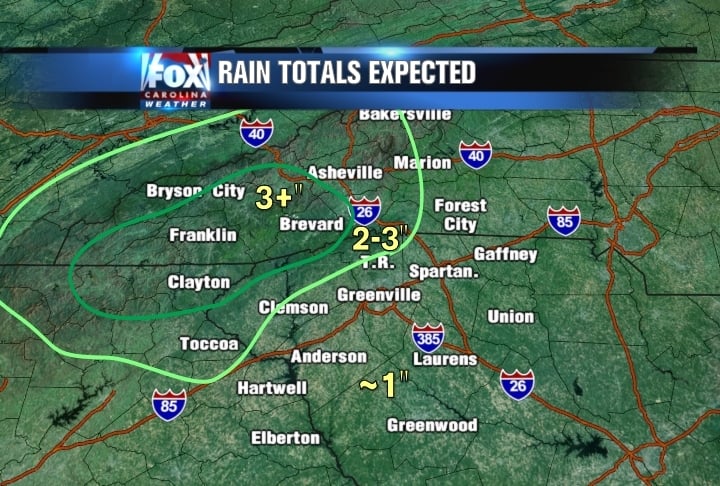 I hope everyone has a relaxing Mother's Day and great time with family.
Sunday - Mother's Day: Expect occasional rain to come down tomorrow as temperatures rise slowly. We'll have a cloudy sky through the day with only light winds as highs make it into the low-middle 70s for Upstate towns with upper 60s and low 70s for Western NC. I expect the best chance for widespread rain will come after lunch.
Steadiest Rain - Sunday Night: The steadiest and (at times) heaviest rain will fall Sunday night and early into Monday morning. This is when 1-3" totals will happen. As you can tell from the graphic to the right, the heaviest totals will most likely come down across Western NC and northeast Georgia. ~1" totals are possible across many Upstate towns with some communities getting more and some not getting as much as 1".
Monday: Rain will be likely early Monday around sunrise and some of it heavy. After making my way through every piece of analysis I could find this afternoon, Monday may turn out dry (for the most part) after mid-morning or so. I think there's a chance spotty rain could linger into the afternoon, but the heaviest rain should be out of here by lunch. If any clearing takes place Monday afternoon, lingering high humidity and proximity of the low pressure system could trigger a few late day thunderstorms.