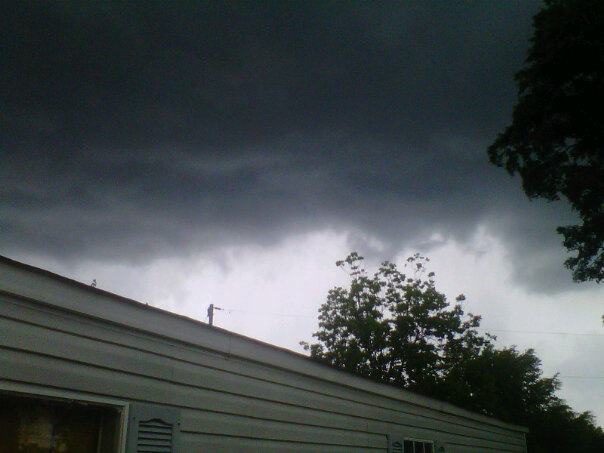 From Cristal Nash in Cowpens
We've already seen a few severe storms across the mountains and upstate, and more storms will develop through the evening. After 10pm, our severe weather threat should go down, and any storms or heavy showers should start to slowly weaken. Here's the most recent damage report from Spartanburg:
GSP: 3 W Mayo [Spartanburg Co, SC] law enforcement reports TSTM WND DMG at 03:24 PM EDT -- tree down blocking sandy ford road near the intersection with country oak road. time estimated by radar.
Greatest shear and instability is to our south, mainly along the Carolina coast, and that's where the worst of the weather will be today. However, our atmosphere is still "juiced up" as we often say, so any storms that develop will have plenty of moisture and energy to access. Severe t-storm watch is out for most of us through 10PM. Damaging wind and heavy rain will be the main threats, but large hail and even an isolated tornado can't be ruled out.
Heavy rain could cause some flooding issues, since our ground is so saturated from several days of soaking rain. This has been TREMENDOUS for our drought situation, but we might get too much too fast in some areas today.
Wednesday we'll keep a few storms in the forecast, mainly for the afternoon and evening once again. You'll have about a 30% chance of getting a storm over your area. By Thursday and Friday we should start to clear out and see more sunshine than clouds! Just in time for the BWM Pro-AM!