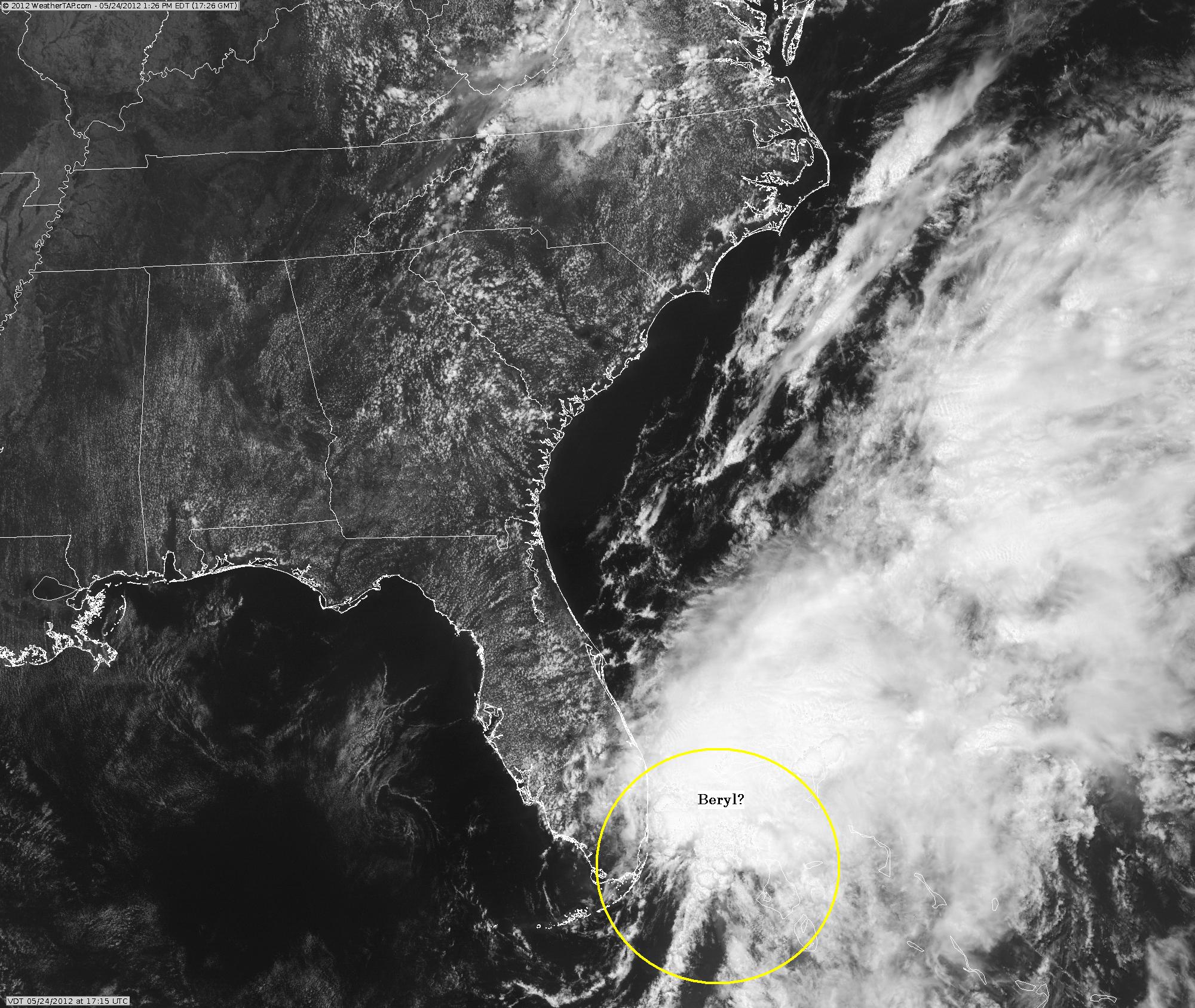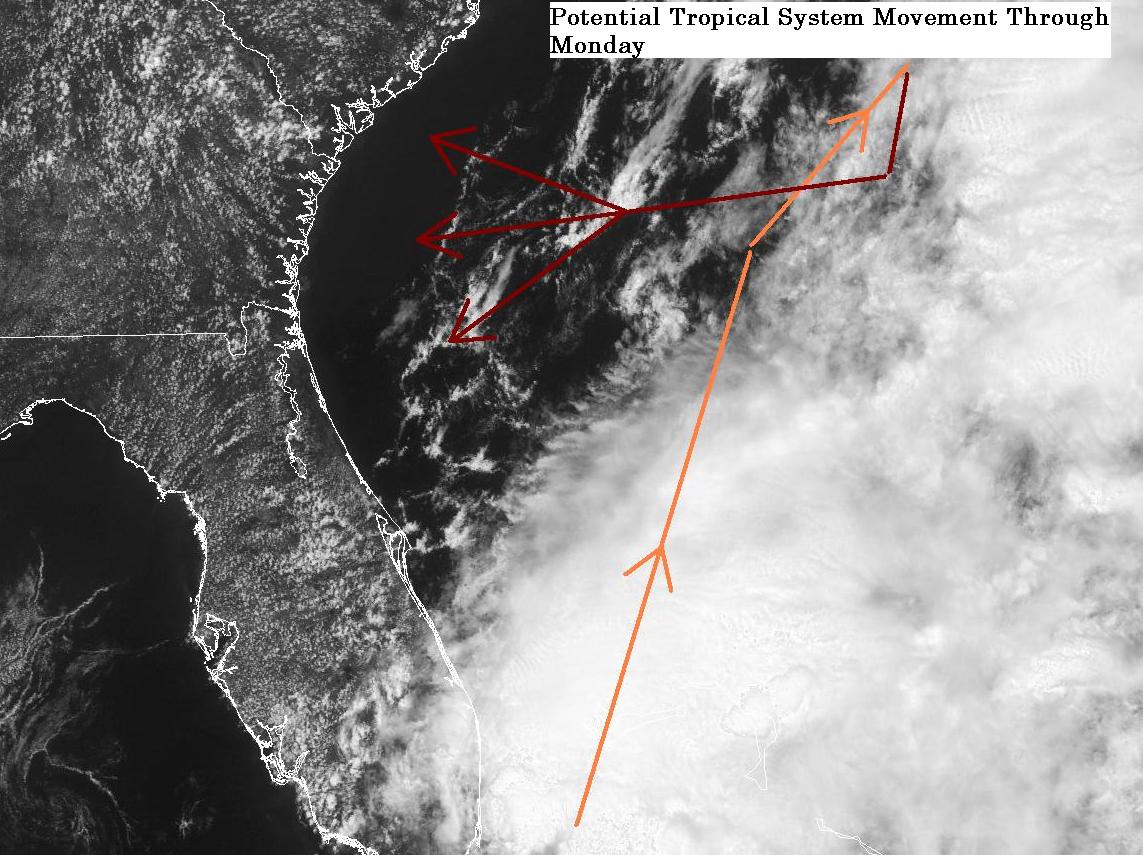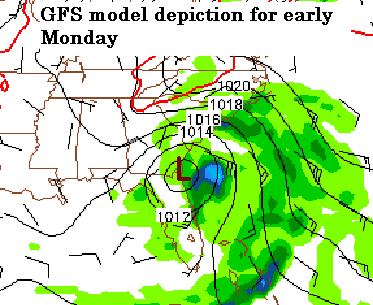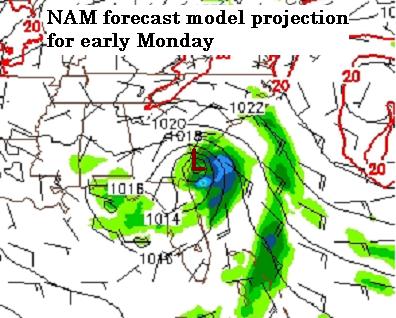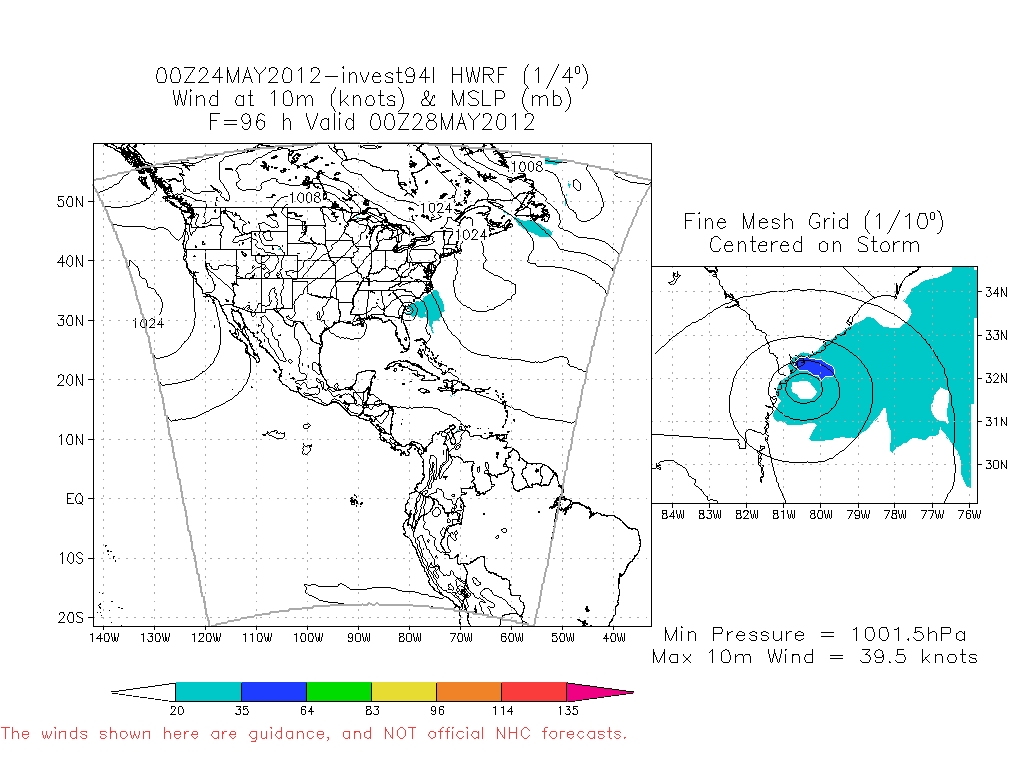 Hurricane Season hasn't officially begun, but the tropics aren't paying attention to the calendar or what should and shouldn't happen. Tropical Storm Alberto formed last week and Tropical Storm Beryl could be just a couple days away. Unfortunately, this developing system could also mess with beach plans on Memorial Day Weekend.
Latest: Satellite imagery (first image to the right) shows a slowly strengthening area of low pressure just east of Miami, FL moving north-northeast. I checked a report off of Joe Bastardi's Twitter page indicating showing interesting observation from a buoy in the northeastern Florida Keys. The observation: VIRGINIA KEY N/A 74 72 95 winds SE48 Gust 61 29.78F ... (winds at that buoy were already blowing at tropical storm force).
Expectations?: First of all, this isn't expected to become some monster hurricane. Sub-par sea surface temperatures, dry air and upper-level winds won't allow for rapid intensification. Still, though, rain, rip currents and high waves will likely mess with some Memorial Day Weekend beach activities you may have planned.
Where's It Headed?: This system is expected to remain on a northward track until Saturday. By Sunday, the clockwise spin around a strengthening high pressure (heat ridge) that will build over the southeast this weekend will play a key role in slowing the system's movement and essentially trapping it. The clockwise steering winds around the high pressure ridge will block any northward progress of what is likely to become T.S. Beryl and re-direct the storm in reverse - back south and west toward the coast.
By Sunday night and into Monday, we could very well be looking at a land-falling tropical storm somewhere as far north as Charleston, SC... and as far south as Daytona Beach, FL. Any change in the placement and strength of the high pressure ridge will adjust the track of this tropical system. You'll notice that most of the forecast model images to the right indicate that this system could have a big impact on Memorial Day Weekend plans bringing rain and high waves to the coast.
We will continue to keep you updated on this storm in the coming days.