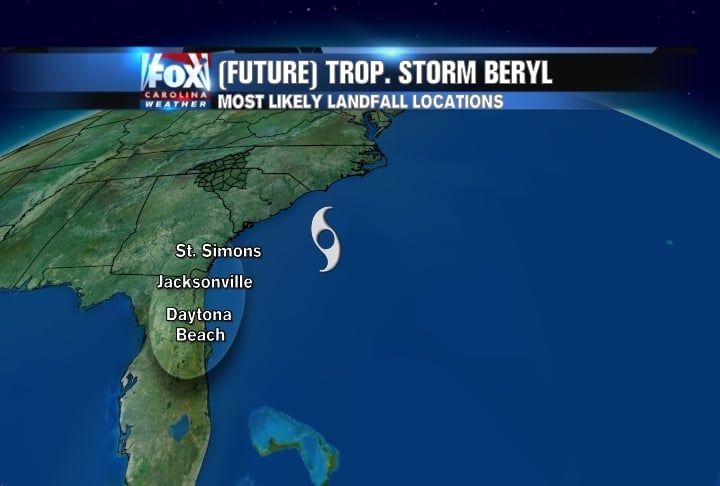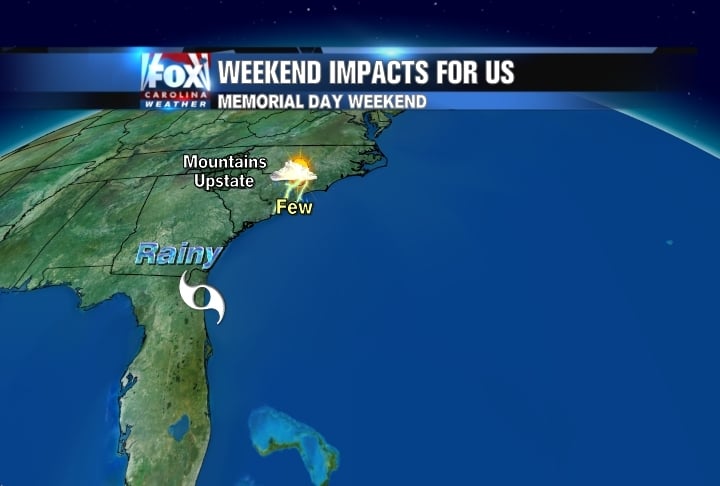 Memorial Weekend Forecast: The lake and the pool will be good places to be this weekend. If you are doing any grilling out and having friends or family over, I'm sure lots of ice water will be close by! The heat will continue on Saturday as highs go past 90° for Upstate towns (low 90s) with middle-upper 80s for Western NC towns. Outside of a few isolated storms for Western NC, the Upstate should have a dry day. Sunday will offer a bit less heat, but highs will still approach 90° for many places in the Upstate/NE Georgia. Sunday highs across Western NC will top off in the middle 80s for most places. There will be a few more afternoon storms on Sunday, but still just about a 20% chance that any neighborhood gets caught underneath a brief, passing storm.
Headed to the Beach?: We continue to watch what is very likely to become Tropical Storm Beryl at some point this weekend. The system is spinning just a few hundred miles off coast of South Carolina this evening and has been moving north-northeast since Thursday. Importantly, due to clockwise flow around the high pressure ridge delivering high heat to the Upstate and Mountains, this tropical system will reverse track and begin moving back to the southwest on Saturday and Sunday. By Sunday night, what will probably be "Beryl" at that point will be closing in on the coasts of either Georgia or Florida. If you have beach plans from Myrtle Beach to Jacksonville, there will be chances for rain and storms along with high waves and rip currents through Memorial Day Weekend.
How This Impacts Us: Since this system stays fairly compact (small-scale), most of the rain will push into Georgia and Florida on Sunday and Monday. However, by Monday, there is a chance for an increase in clouds and rain/storms around here by afternoon due to the outer bands of the tropical system. This will certainly kick the heat wave to the curb as we'll go back into the 80s next week.
Also, we're watching Tuesday closely. It looks like there's a pretty good shot at rain and storms around here as a weak front moves in from the west and pulls some of the leftover tropical moisture from what's left of the tropical system (Beryl) to our south.