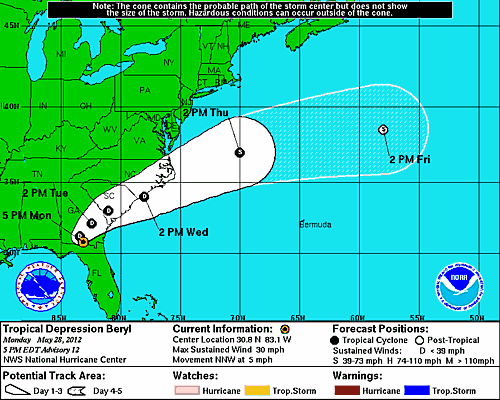 Beryl's path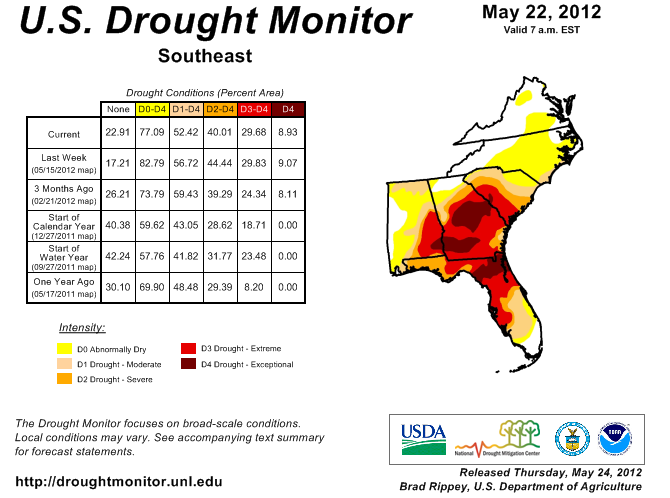 Drought stricken areas get some much needed rain!
Those along the south Georgia and northeast Florida coast are breathing a sigh of relief that Beryl didn't bring devastating impacts. The storm made landfall as a strong tropical storm. It toppled trees and caused some flooding, but could have been much worse! What Beryl did bring (and is still bringing) is RAIN! The heavy rain is much needed in south GA especially, as they have been dealing with extreme to exceptional drought conditions there. The beneficial rains will spread north to the Carolina coast before the storm exits into the Atlantic. We'll get scattered storms and showers through tomorrow, but the widespread rain will stay to our east.
Why is Beryl taking a turn north, then northeast? An upper trough! It will swing in the keep Beryl from making much westward progress. The same front will help scour out the moisture in our area by Wednesday, so we'll be looking at another hot and dry day then.
Thursday into Friday we'll be watching a strong cold front approach from the west, which will likely bring some severe storms late Friday to parts of the southeast. Timing and degree of severity of the storms is still uncertain, but this system is one to watch for this upcoming Friday.