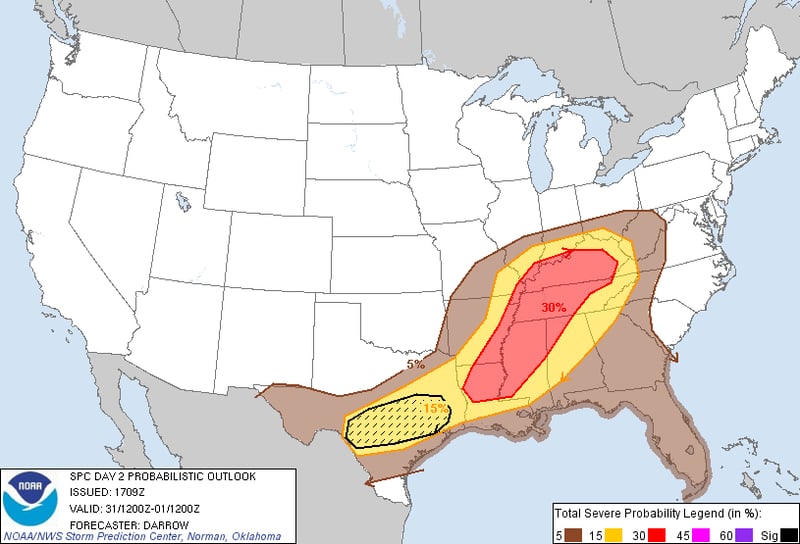 Severe threat for Thursday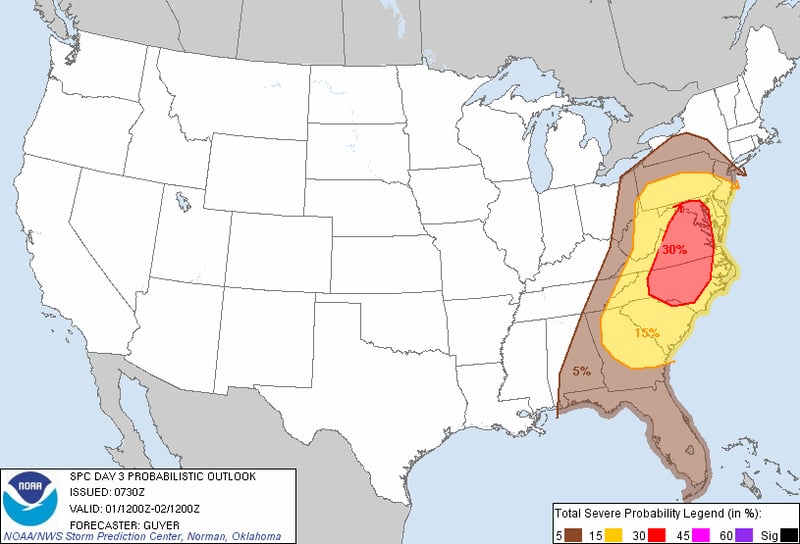 Severe threat Friday
Today was a taste of what's to come in July and August! At least the humidity wasn't too bad, but it's still hard for me to adjust to 90 degree heat! Expect more of the same for tomorrow, but late day we'll add a few storms to the mix.
A strong cold front will be working its way across the southeast tomorrow, so Alabama, Mississippi and Tennessee will be most vulnerable to severe weather through the day on Thursday. A few storms could make it into northeast GA or our western mountains before they weaken, so we'll have a severe threat in our western sections late Thursday. The rest of us will also have a storm threat, as a warm front rises to our north bringing in some unstable air. About a 30% chance of rain will be carried for our area, then I'll bump that to 80% for Friday as the cold front crosses into the Carolinas.
On Friday we'll have the threat of large hail and damaging winds with any storm that develops, but the greatest tornado threat should stay to our north as the surface low pressure takes a quick jog from Missouri to the Great Lakes region. Timeframe for severe storms will be 1pm-9pm Friday, then we should notice the storms pushing east and weakening a bit as night falls and the front moves through.
Weekend is looking great! Sunny, lower humidity and slightly cooler temps! Now... we just need to get through Friday. We'll keep you posted on any dangerous weather that develops!