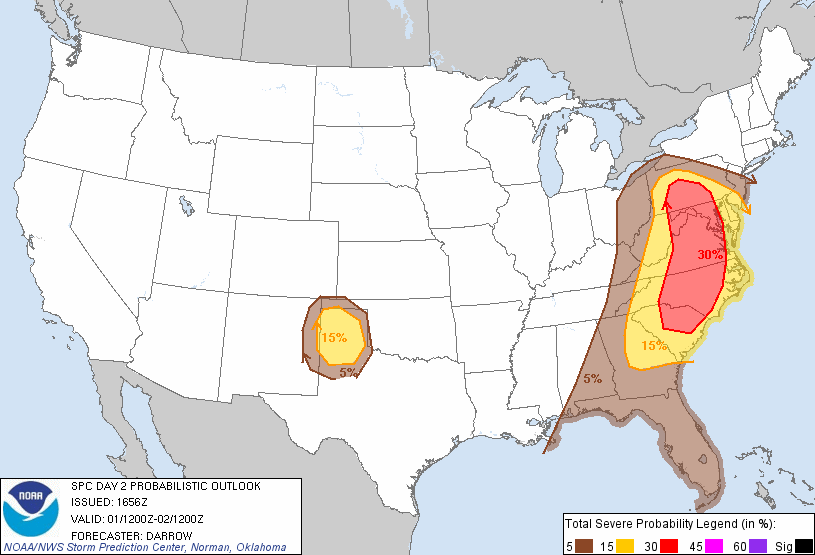 Severe weather threat Friday
A potent cold front is taking aim at the southeast today. Severe t-storm watches are posted for Louisiana, Mississippi and Tennessee, and I expect the same kinds of watches to be issued across the Carolinas and Georgia tomorrow. As for today, storms should remain isolated and mainly in the mountains. Overnight tonight we'll have scattered showers and a few storms, but the severe weather threat won't go up until the front gets a little closer to us.
The front will be right upon us Friday morning and early afternoon. Therefore, our best chance for storms will be midday and into the afternoon. Damaging wind and hail will be possible with any storm, especially east of I26. So places like Union, Gaffney, Charlotte, Laurens and Newberry will be most vulnerable to the strongest storms. The reason for that is frontal timing. The line of storms will arrive in our eastern sections and the Charlotte metro during the hottest time of day, which will add the most fuel to the storms. Looking at the SPC severe risk map I attached to the post, the greatest likelihood for severe storms will be to our east and northeast. That is because the surface low will be closer to those areas (farther north from us), plus the late afternoon timing will be in play for those red shaded areas.
So, from 10am-6pm we'll be watching for severe storms on Friday. After that, things should calm and we'll get some slightly cooler and drier air from the northwest. The weekend should be gorgeous, with just isolated storm chances on Sunday.