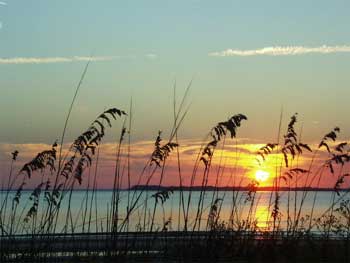 This is a photo from Edisto Island, SC
This weekend will be outstanding to be outside! Saturday will be the best day with Sunday not far behind as temperatures stay far more comfortable than what we are used to in June.
In recent days, projections of a cool pattern for the short-term has shown itself once again. Looking down the road into next week, the relatively low humidity will continue and so will the sunshine (most days). Also, temperatures look like they will stay a good bit below 90 as we're caught in a northwest flow instead of being underneath a heat ridge, which is normally common this time of year.
Yeah, there has been humidity at times making it feel hot outside. But, purely heat? We haven't seen it. As we look back to May and now early in June, heat waves have been virtually non-existent. Surprisingly, there have only been a handful of days we have gone past 90. That is remarkable if you ask me, especially considering many of the "official" temperature gauges which get all of the attention are kept near inner-city heat islands where concrete and asphalt retain heat from past days.
I remember a discussion which came up a lot this past winter when we stayed very mild. The common statement on the board/blog was that since we were robbed of winter weather... maybe all of the cool air would make an appearance later and lead to a more comfortable pattern as we go into summer. Well, staying out of a hot, ridging upper-level pattern is EXACTLY what has happened so far and we'll hope it continues this month! Surely our luck will run out in July and August.
The picture comes from : http://edistoroundup.com