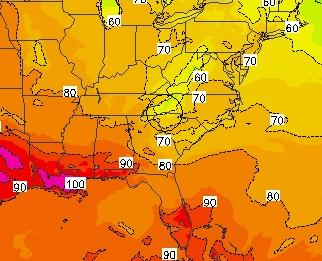 Morning: Expect a cloudy sky tomorrow morning with the chance of some light rain or drizzle in a few places. Temperatures will begin the day ranging from 59°-62° in towns across the Upstate with 50s in Western NC at sunrise. A light easterly/northeasterly wind will keep temperatures from warming very quickly by mid-morning. According to futurecast, most towns will be in the middle-upper 60s just before lunch.
Lunch (11am-1pm): Here's where a few rays of sunshine may try to make an appearance. I do think there will be some sunshine in a couple of places: (1) some towns in the southern and southeastern Upstate like Abbeville, Laurens, Greenwood and Clinton... and also (2) some high elevation Western NC towns. Most of the clouds tomorrow should be relatively low-lying. We could also see just a few scattered storms pop-up around lunch or into the early afternoon around the time or just after that sun comes out in a few places. Lunchtime temperatures will range from upper 60s to low 70s. There could be a few readings in the middle 70s down around Greenwood, Abbeville and Elberton. The graphic to the right shows a forecast model projection of temperatures close to midday.
Late Afternoon & Evening: The clouds should regain control tomorrow by late tomorrow afternoon and that's when we'll have another slim chance for a few light rain showers. More than likely, there won't be much rain and we aren't expecting anything heavy unless a few storms fire in the southern Upstate. As is common in this easterly wind setup, there will probably be a fairly wide range of temperatures by tomorrow afternoon. Northern Upstate and southern NC towns may be hovering between 67° and 73° while southern Upstate towns warm into the 73°-77° range. Western NC highs are expected to reach around the 70° mark.