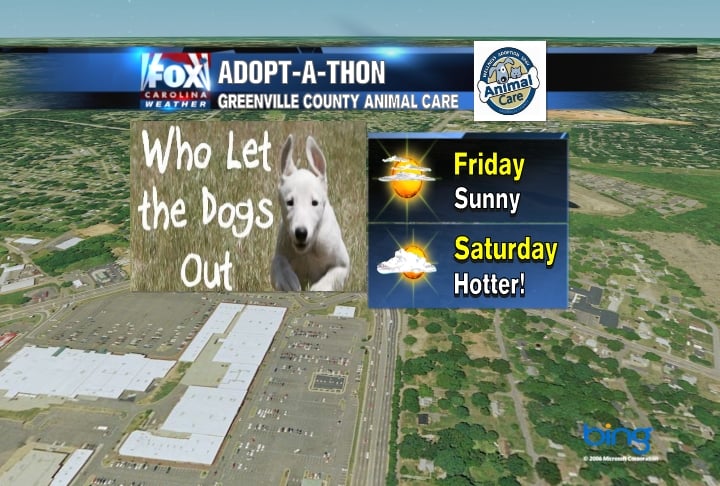 TGIF! We'll return to seasonal temperatures today, so we're done with the cooler highs... briefly. Higher rain chances back for the end of the weekend and early next week will allow highs to dip back below-normal.
Clouds this morning will continue to decrease, giving way to mostly sunny skies by the mid and late-morning. We'll stay mostly sunny this afternoon - so if you work outside or you'll be heading to the golf course or pool, make sure you have the sunscreen on! Drivers will also need to watch for sun glare issues, so take your sunglasses along with you! Afternoon highs will reach the low 80s in the Mountains and the mid 80s in the Upstate. Those highs are right on track for normal.
Tomorrow will bring the highest temperatures of the week - Upstate areas will see thermometers peak in the upper 80s, while Mountain highs will hit the low to mid 80s. We'll see a few extra clouds during the day, but we'll stay dry.
Southerly flow will usher in Gulf moisture by the end of the weekend, and an upper level low will be moving into the Southeast. This is going to amp up our rain and thunderstorm chances for the end of the weekend and early next week. Sunday may start off dry for a lot of locations, but the cloud cover will be in charge and by the afternoon rain will overspread the area. The unsettled weather will persist from Monday through Wednesday - so we'll need to keep umbrellas around through the first part of the new work-week.
Hope you have a great weekend - and I thought I'd mention a pretty cool event happening today and tomorrow. Greenville County Animal Care is hosting a dog Adopt-A-Thon (I love the theme: "Who Let the Dogs Out?" haha)! The shelter is located off of Pleasantburg near Cherrydale - and the hours are 12-7 today and 11-6 tomorrow. Both Cody and I have added great furry family members from the shelter, and Kendra volunteers there and gets to interact with all the great dogs. If you're considering a new (or another!) pet, head up there and check out the pooches - the forecast (at right) is great!