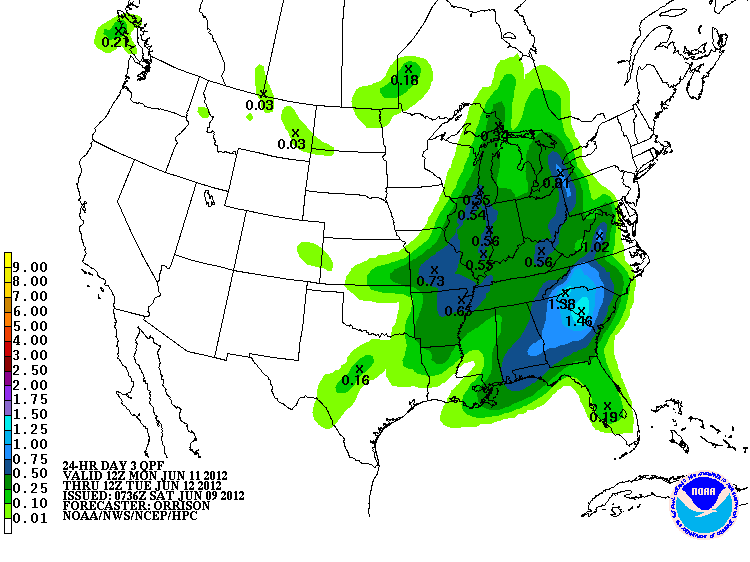 Saturday: Expect a mostly cloudy sky with sun at times today. It won't be hot today as highs reach the low-middle 80s in the Upstate/NE Georgia with upper 70s to low 80s in Western NC. Clouds will increase through the day. Even with the cloud-cover, there isn't much of a chance for late day isolated storms tomorrow outside of a very slim chance near the NC/SC border.
Sunday: A cloudy sky, lower temperatures and a 100% chance of occasional rain will be the focus on Sunday, although it won't rain all day long. An upper-level system moving in our direction from Louisiana will be the main cause. The southerly flow ahead of this system will pull a good amount of humidity from the Gulf of Mexico. The most likely outcome will be off/on showers and a few scattered storms without much threat of severe weather. Highs Sunday will only reach 70 to 78 area-wide.
Monday & Tuesday: The chance for occasional rain and a few storms remains high on Monday. This will obviously put on a cap on how warm those temperatures can go through the day. As for rain, it's very possible that a few towns could deal with multiple downpours on Monday and possible into Tuesday morning as the upper-level system responsible for this situation slowly meanders just south and west of us. There's no real way to project how much rain may fall either day, but it's safe to say that a few towns will deal with multiple downpours and over 1+" total. It's hard to rule out the possibility of a few strong storms capable of damaging wind gusts on Monday, but this situation doesn't look like a severe weather outbreak with the lack of a strong upper-level system and excess cloud-cover keeping instability low. Highs Monday will also be in the 70s area-wide.
The chances for widespread, scattered rain/storms will be reduced significantly by the late-half of Tuesday.
_________________________
**2.27" in Greenwood Co: Rain total as of tonight in a place that sorely needs rain (Greenwood) of over 2" just from the rain this evening (http://www.wunderground.com/weatherstation/WXDailyHistory.asp?ID=KSCGREEN32). Thanks to Zach Lloyd's weather station down in Greenwood for this report. The same band of rain moved through Abbeville, Laurens and Union before making it into parts of Cherokee and eastern Spartanburg County around midnight.
_________________________