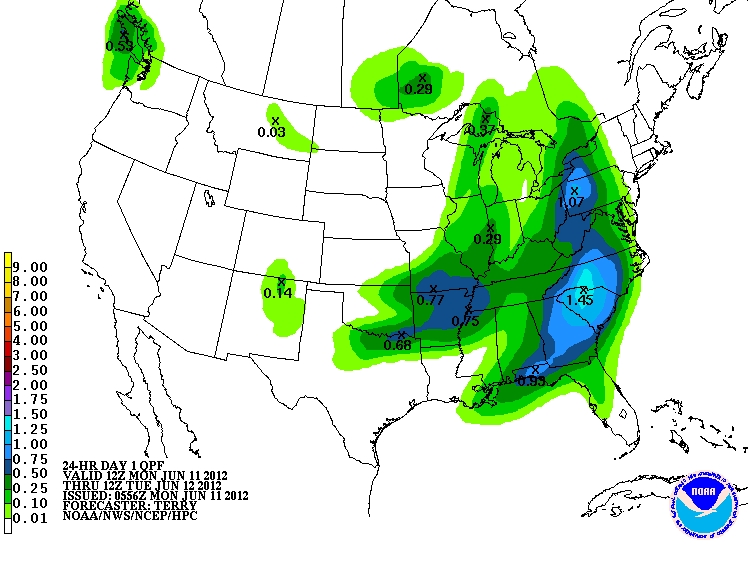 Good morning! I hope you got to enjoy the pretty Saturday, since the clouds and rain took over on Sunday (at least it made for a good nap/movie day!). We're going to keep the soggy forecast going for our Monday... in fact, today will be the rainiest of the bunch.
Rain showers are affecting parts of the area (mainly western Upstate, SW NC and NE GA) this morning - and the rain will begin to overspread the region through the mid and late-morning. By lunchtime and through the afternoon, I'm expecting the most widespread rain - as well as the potential for some heavy downpours embedded within the action.
While most of the western Carolinas and NE GA can expect rainfall rates of 0.5 to 1.5 inches (see HPC's QPF image at right), embedded downpours could leave isolated higher amounts. While I am not expecting widespread flooding from this system, I wouldn't be surprised to see a few localized water problems in areas that see a heavy downpour (or especially a few). So stay tuned for a few potential Flash Flood Watches/Warnings later today.
Widespread rain will begin to lighten up by late this evening and overnight - but a few showers could linger while you're sleeping. A cold front will cross the area on Tuesday and will keep higher rain chances - however, I expect Tuesday's rain and storms to be more scattered in nature. A few storms tomorrow could be strong, but we aren't under any kind of elevated severe risk as of now (while a rumble of thunder is possible today the severe threat is negligible).
By Wednesday and through the remainder of the week, we'll hold on to small rain/t-storm chances, but we'll see much more in the way of dry time. Temperatures will warm back closer to normal (today we'll be about ten degrees below normal highs) by the middle and end of the week, too. The weekend looks bright and dry as of now, and we'll keep our eye on that forecast through the week - since the early week rain will have many wanting to enjoy some outdoor activities!