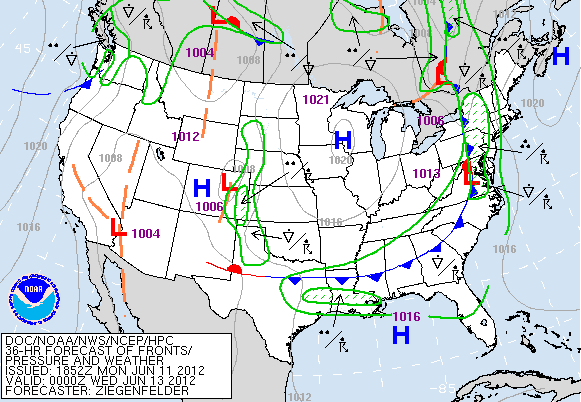 HPC showing a front moving through tomorrow.
Ah... the late spring cold front... such a misnomer! However, cold fronts don't have to bring significantly cooler air! This front that will move through tomorrow will bring in drier air, which happens to heat up more efficiently than humid air. So, it will actually get hotter behind Tuesday's cold front. Also, the front will help to shut down the rain machine that has been thriving since Sunday.
Tonight we'll get a few showers and isolated storms, then tomorrow we'll notice scattered showers and storms developing mid-day onto the late afternoon. Severe weather threat won't be high, but some heavy downpours or even a wet microburst can't be ruled out (wet microbursts bring damaging wind from the dramatic cooling of the air column as rain pours down). After about 6pm we should notice any storm activity diminishing.
Wednesday & Thursday will be nearly-hot! Humidity won't be as high, so it may not FEEL as oppressive outside. Highs will reach the upper 80s in the Upstate and low 80s for the mountains. On Friday we'll begin to feel the influence of a high pressure to our north, which should pump in some slightly cooler air! Therefore, Father's Day weekend is looking REALLY nice with highs actually a big cooler than normal (78-83) under sunny skies.
My thanks go out to Andy Wood who covered for me while I was on vacation last week! It was some much needed time off :) I'm glad to be back and feeling a bit more energized thankfully!