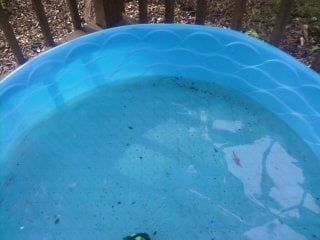 From Brandy Roe in Toccoa where her pool was filled by recent rains!
I always enjoy bringing you a beautiful forecast for any weekend, but especially for Father's Day weekend! I know many of the dads out there will want to go fishing, play golf or maybe take a hike on Sunday, and it looks like the weather will cooperate nicely. Normal highs for this time of year are in the upper 80s for the Upstate and low 80s in the mountains. We'll luckily be around 5 degrees cooler than the norm both Saturday and Sunday, plus the humidity should stay in check! There will be a slight chance of a mountain storm late day Sunday.
The mugginess will return next week, as well as the heat! Highs will be near 90 in the Upstate by late next week! We'll bring back 20-30% rain chances during next week, which is sort of a typical summer-time rain chance! I don't see any big rain makers until MAYBE next weekend. We could see a good soaking a week from tomorrow, and we will definitely be parched for some rain by then.
My dad lives in Galveston, TX, so I won't get to see him on Father's Day. But, I'm sure I'll have a good chat with him and hear about some of his big catches! (He's a professional boat captain and fisherman). Weather will luckily be good for whatever he wants to do in south Texas, just HOT! Thank goodness we'll be on the cooler side of normal!
Hope you have a great weekend with YOUR dad, remembering fathers that have passed or being celebrates by your kids!