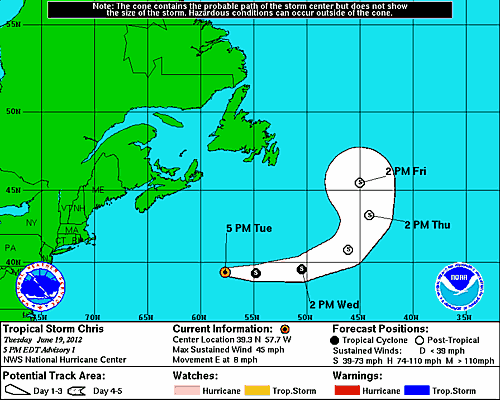 Little attention for Chris
Tropical Storm Chris has formed in the northern Atlantic, and is not going to make any news for us in the U.S.
http://www.nhc.noaa.gov/text/refresh/MIATCDAT3+shtml/192055.shtml
Above is a link to the forecast discussion on Chris. It is expected to stay at tropical storm strength as it moves over moderately warm waters, then it will eventually be squashed by cooler ocean temps and an extra tropical low to the north. So, Chris definitely doesn't merit much discussion here in the Carolinas and Georgia!
But, the heat is definitely getting our attention! It, combined with the humidity, will bring uncomfortable afternoon and evening conditions through the weekend! Tomorrow expect highs to range from the mid to upper 80s in the mountains to low 90s for the Upstate. By the weekend we may be contending with mid 90s and heat index values near 100 in the Upstate.
There is SOME hope... it looks like a trough tries to build in during the middle of next week, which would bring some cooler temps. However, until next week we won't be able to shut the oven off!