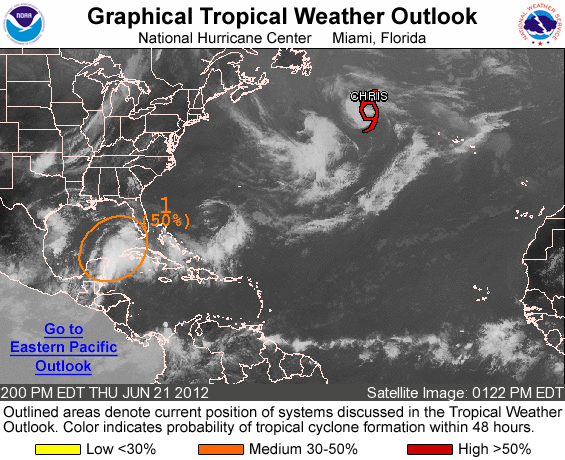 T.S. Chris and an area we are watching!
Hope you are having a great Thursday! It has certainly felt a lot like the first full day of summer! We got a brief soaking in Greenville, otherwise the bulk of storm activity has been in the mountains. Tomorrow our storm chances go up slightly as a cold front moves in. We'll have a 40% chance in the mountains and 30% chance for Upstate and northeast GA areas. By Saturday the front will be laying over the western and central Carolinas, and because of that most of the rain should be in the midlands and southern Upstate. The heat stays around through early next week, then cooler air finally starts to move in Tuesday and Wednesday.
As for the tropics, we are keeping an eye on some disturbed weather in the southern gulf and western Caribbean. A center of circulation will probably develop over the next few days, and we could get our next tropical system (Debbie) by the weekend. Models take the system due east across Florida as a heavy rain maker (probably as a tropical storm) and then out into the Atlantic.
Today has been a busy one! But all good stuff on my end. I got my first iphone, so I've been trying to figure out how to use it! Plus, I'm working on a story for tomorrow about kittens. This time of year there is a big over-population of kittens in our local shelters. At Greenville County Animal Care they have a group of very young kittens who were rescued from a storm drain. I'm going to be out there tomorrow to meet the little guys and cover their story, plus bring attention to the growing problem of cat over-population and the need for spaying and neutering. Story will air on Friday. HOPe you can tune in!