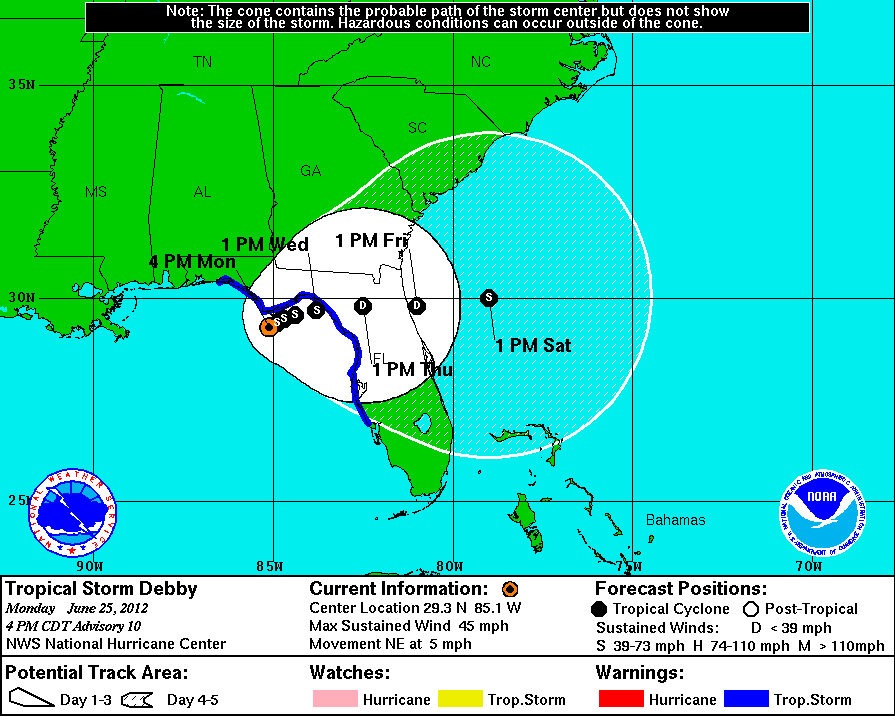 Tropical Storm Debby's path
A cold front is passing through the western Carolinas, and it will bring some VERY pleasant weather (by late June standards) for Tuesday and Wednesday! Highs will be below normal, and humidity should be fairly low.
But, a strong high pressure to our west will nudge out the pleasant feeling Canadian high by Thursday. This will bring a big surge in heat! In fact, we could flirt with records on Friday and Saturday! I'm forecasting 99 for both days, while the records are 101 and 100 for Friday and Saturday respectively. This heat will stick around through early next week. Isolated storms will have the potential of cooling down some spots Saturday-Monday.
Now for Debby. It's meandering around the eastern gulf, just off the west coast of Florida. Heavy rain has caused flooding from Panama City to Tampa, and it's just going to get worse. The storm is a slow mover, because it doesn't have any atmospheric players to help push it along to the east. It will move across Florida by early weekend, then move along the east coast early next week (if model projections hold). There will be some dangerous rip currents for those heading to the Carolina and Georgia beaches for July 4th week most likely.