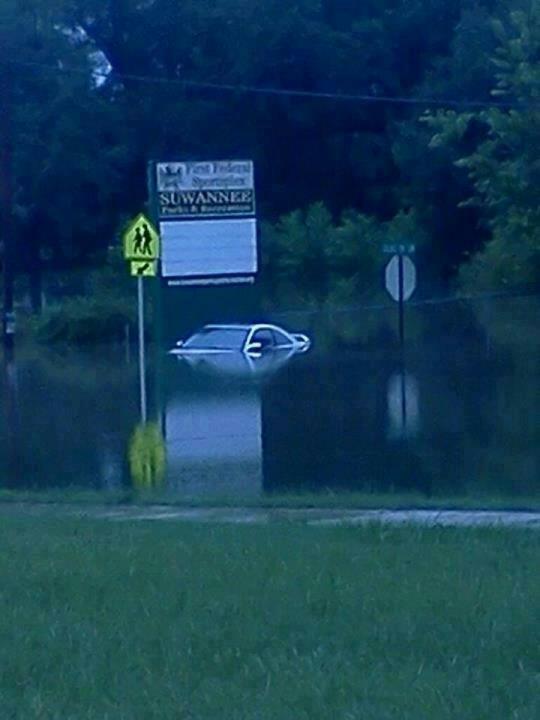 From Steven Johns, Live Oak, Florida
The picture with this post was sent in by Steven Johns of Fountain Inn. His niece lives in Live Oak, Florida, where around a foot of rain has fallen already and more is expected through tomorrow. Tropical Storm Debbie is still churning right off the west coast of Florida and causing all of the heavy rain. It will make landfall later this evening. The landfall won't bring much dramatic impact, just more rain and continued gusty winds! The storm will linger over Florida through Wednesday, then exit into the Atlantic on Thursday. It will likely bring some high surf and a rip current threat along the Carolina coast from Thursday to Saturday. Other than that, the weather for this weekend along the coast shouldn't be impacted too much! It will be hot, sunny and breezy with a low rain threat at this point.
If you are sticking closer to home, get ready for that stifling, uncomfortable heat that many of us dread this time of year. We usually get a couple of heat waves during the summer, and this will be a bona fide stretch of scorching weather Thursday through early next week. Wednesday we'll be a little warmer in the upper 80s in the Upstate, then by Thursday expect mid 90s! Friday we'll be around 100 in most spots outside the mountains, and low to mid 90s in the mountains! We may break records in the Upstate (Friday's record is 101 and Saturday's is 100).
Storms should be isolated at best, and mostly in the mountains through the weekend. So... the take home message is ENJOY TODAY AND TOMORROW!!! And plan to activities around the water this weekend, or maybe just inside! If you take in a baseball game, window shop or anything else outdoors be sure to keep a cold bottle of water with you!