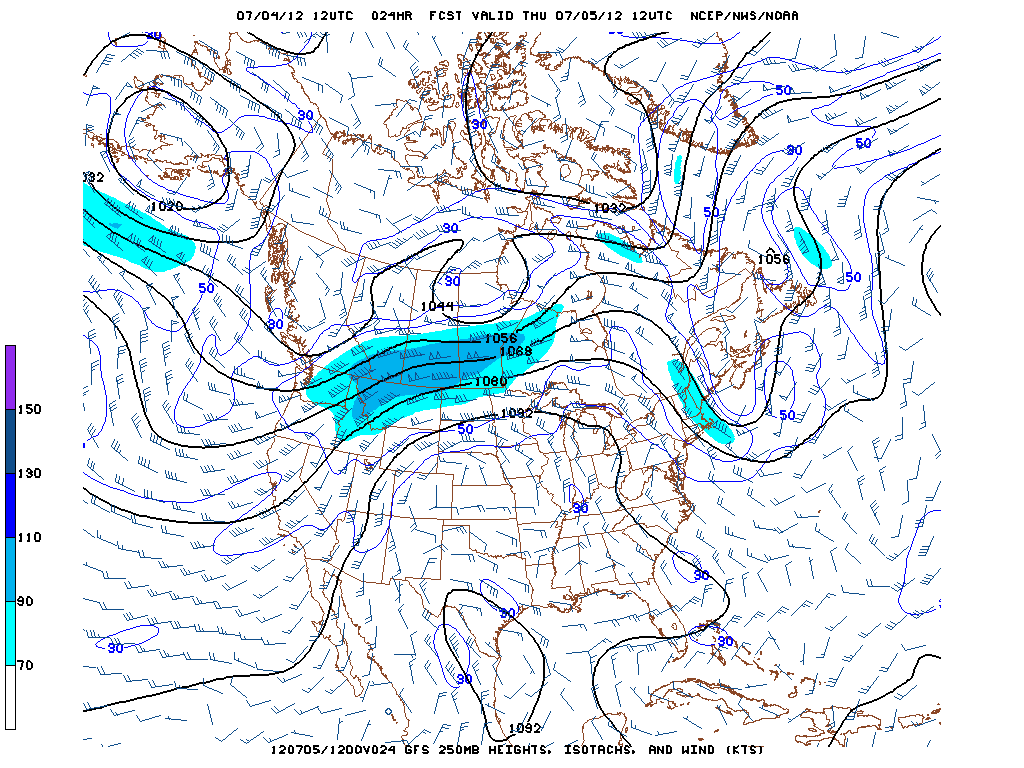 GFS model showing a small pattern shift for us.
Hope you've had a wonderful July 4th, celebrating our independence and staying cool! This morning was pretty comfortable with the clouds, but the sun has helped warm us quite a bit this afternoon. Highs have reached the mid 90s in parts of the Upstate.
We'll have the threat of storms through 9pm this evening, then most storm activity should dissipate.
I've attached an image showing the GFS model of the jet stream winds, which indicated that tomorrow and Friday we'll have a northwesterly flow pattern aloft. But what does that mean??? Well, it means that any storms that develop to our northwest could easily ride south into our area. This would most likely happen overnight as MCS (mesoscale convective systems) develop in the Midwest. However, there's only a slight chance of this happening. So, be on the lookout for storms both Thursday and Friday mornings, but in all likelihood we'll be dry. Northwest flow patterns are very hard to forecast, and the forecast can BUST on us if a potent complex of storms gets caught in the northwest pipeline and pushes into the Carolinas and Georgia.
The excessive heat will be around through the weekend, then next week a front will bring higher rain chances. We'll keep our fingers crossed, since we are still in Severe and Extreme droughts in southern Upstate spots.
Enjoy some beautiful fireworks tonight and remember that we live in the greatest country on earth!