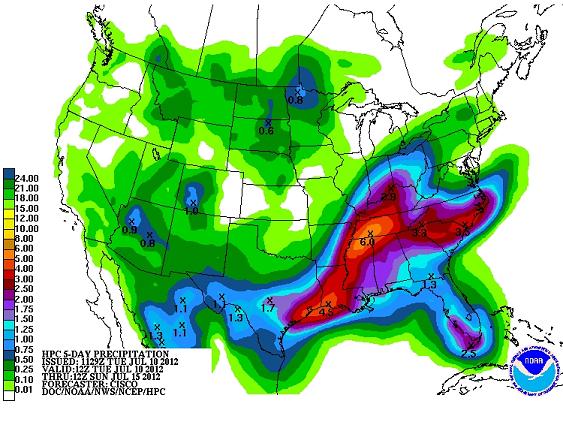 A cold front will become stationary over us through the end of the week - keeping high rain and thunderstorm chances in our forecast through Friday. While this isn't exactly great news for outdoor plans you may have, it is welcome and will help alleviate some very dry, still drought-stricken areas (see Kendra's post from last night for more on that).
The latest HPC precipitation forecast is at right - and it still appears that most of the area will pick up a general 2-3 inches of rainfall through the end of the week (this graphic shows rainfall from 8 AM today until 8 AM Sunday).
The frontal boundary will serve as a focusing point for shower/t-storm development, which is why our rain and t-storm chances will stay high (40-70 percent) through the end of the work week. While we could see a few showers and an isolated t-storm during the overnight/morning hours, the PM hours (afternoon/evening) will bring the higher rain and t-storm chances. These 'peak heating' hours will bring the most instability, so that's when we'll see the most action on the radar. Watch for an active radar screen between noon and 8 PM today and tomorrow.
The main storm threat will be heavy downpours - and although the rain is much-needed, we could see a few localized water issues in areas that see several rounds of heavy rain (or one particularly torrential cell). While the severe threat isn't too high, a few severe warnings aren't out of the question - and a strong/severe storm could produce some hail or gusty winds.
Highs today will be near-normal - we'll rise to 90 degrees in the Upstate and the low/mid 80s in Western North Carolina. The humidity will stay VERY high, as dewpoints will linger in the upper 60s/low 70s through the week. Despite the very muggy air through Friday, the second half of the week will bring cooler temperatures - highs will dip into the upper 70s in WNC and the mid 80s in Upstate towns.
By the weekend, we'll still be watching for a few hit-or-miss storms, but I'd expect more breaks in the cloud cover... and temperatures will begin to warm back up.