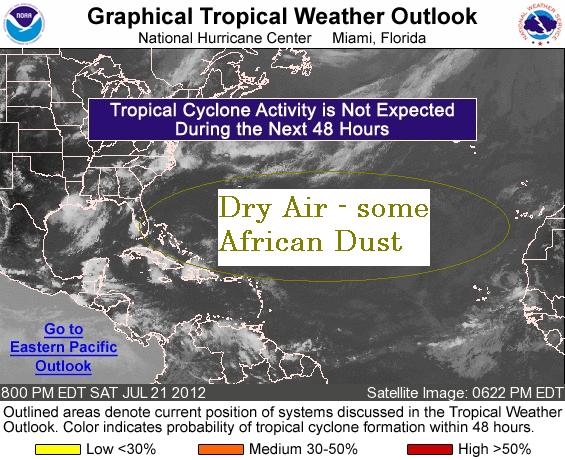 Next Week: We are headed back into the 90°-95° range this week (nothing close to 100° at least). Along with the warmer temperatures, humidity will stay relatively high, but not quite a juicy as last week was. Without the excessive humidity, showers and storms will remain unlikely in any specific town - down to around a 20%-30% chance each and every afternoon. As usual, any developing storm will have the ability to put down a quick 1" of rain in a very short time, but it doesn't look as if too many communities will be fortunate enough to soak up much rain next week.
Tropics Update: The presence of a fairly large amount of African dust which moved across the Atlantic recently is clearly evident on the latest satellite imagery from the tropical waters of the Bahamas all the way to Africa (http://www.nhc.noaa.gov/gtwo_atl.shtml).
I altered the NHC graphic (with "dry air" text) to show how expansive the dry air is from east to west. This dust has cut down on cloud-cover and has had an effect on tropical wave organization. it will be interesting to see how long this dust cuts down on the humidity needed for tropical systems to develop.
We're still early in the season as August and September are historically the most active months for tropical storms and hurricanes.
_______________________________________