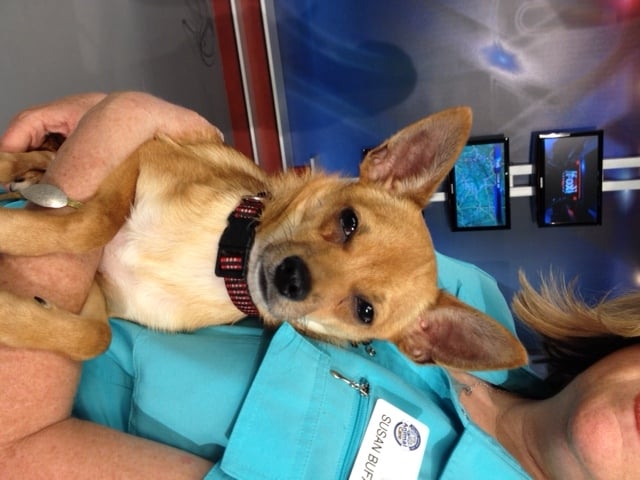 "Tanner" from Greenville County Animal Care!
A quick plug for our new segment on Fox before we start talking weather... I'm going to start doing a pet segment called "Fox's Four Legged Friends" each week! We are involving different shelters from across our area, and we'll really be having fun with is as we head into fall. This week we are features Delbert the cat and Tanner the Chihuahua (pictured). As you've probably figured out from my blog, facebook posts, tweets, etc. I'm an animal lover! I volunteer for Greenville County Animal Care and I'm so excited to be able to use the power of TV to help some wonderful animals.
As for what they REALLY pay me to do around here... It's been HOT! More intense heat will be around tomorrow (heat index of 100+ in many spots), but storms will erupt late in the day. The storms are all with a cold front that will move in on Friday and slowly make its way through the Carolinas this weekend. Both Friday and Saturday bring scattered storms, mainly for the peak heat hours. Each day we could see a few severe storms, with damaging wind and hail.
As for getting rid of this heat... well there won't be a significant drop in temps this weekend. But, temps will be slightly lower Saturday and Sunday as the upper level ridge that has been keeping us so hot breaks down, and an upper trough begins to have more influence on our weather.
So, for planning purposes... be sure to have a back-up plan to your outdoor place for late Friday afternoon and also Saturday afternoon. I do think we will be drier on Sunday.