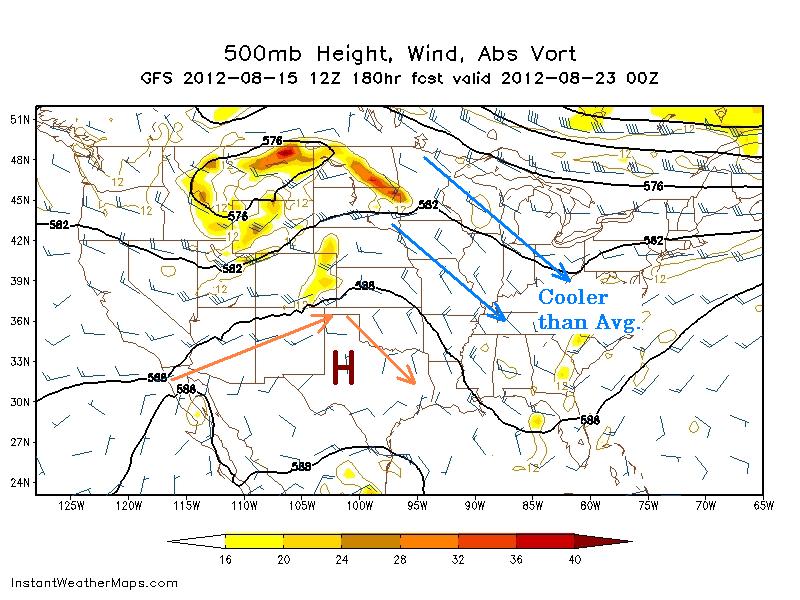 Recent Cool-Downs: One of the main focal points during the last couple of weeks has been temporary cool-downs with cool fronts pushing through our area. This (cooler than average) trend has continued this week as a front is moving through today hauling in a fresh supply of less humid and slightly cooler air. We're not talking October-like cool air by any means, but it does feel a lot like early to middle September outside!
Beyond The 7-Day: As we usually point out when talking about potential weather patterns more than five days into the future, there's no solid accuracy in determining specific forecast details past five days in advance of the current day. However, we are able to get a good handle on the overall setup and the factors which may lead to determining specific details. In other words, we can get a good idea of what may happen (5-8 days in advance) without knowing exactly.
I have posted a map which is consistent with weather conditions projected for next Wednesday evening the 22nd of August. Similarly to the recent setup, it looks as if we may be dealing with a light northwesterly flow at the surface with a good amount of upper-level winds promoting a cooler than average look temperature-wise. Also, with that setup, we may be dealing with some sort of front close by which helps produce pockets of rain or storms, but there's no telling where that front will be located.
Although, that heat ridge west of us bears watching and I think there's a real chance of it moving east and spreading some warmer than normal temperatures around the Western Carolinas close to the 22nd, 23rd or 24th.
We'll wait and watch. The count-down for cool, fall weather (and football) is here. Soak it up!
__________________________________________