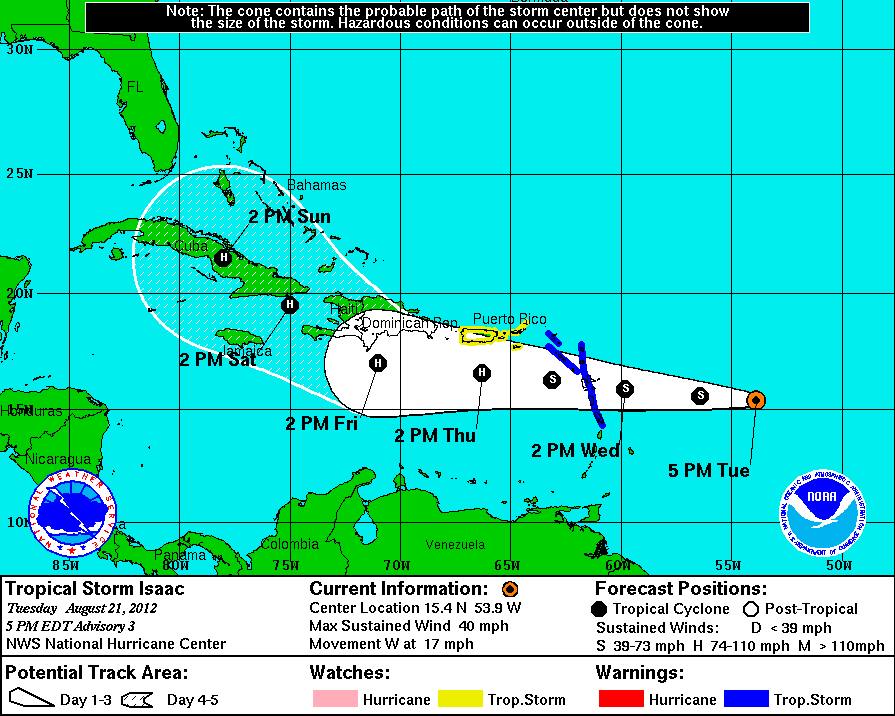 Isaac forms as a tropical storm nearing the Leeward Islands.
Isaac will be one to watch! It has developed as a tropical storms this evening, and is forecast to become a hurricane tonight or tomorrow. It is heading into favorable conditions for development, then it will encounter some road blocks as it moves over land potentially around Haiti or Cuba. The storms will likely move north from there into Florida as a cat 1 or 2 hurricane, but some of the models take it into the Gulf, while others pull in north a bit early and move in along the eastern seaboard. MOST models take it on the track of the hurricane center, which would impact Florida the most (see attached image)!
Keep in mind, the Republican National Convention is going on in Tampa starting Monday, so this could pose some issues for those traveling into Florida for that!
IF it brought us rain, it would probably not be until Tuesday or Wednesday of next week. A lot can change, but we could potentially get several inches of rain, especially in the southern and eastern Upstate if current trends hold.
As for our weather in the immediate future, QUIET! Partly cloudy, only isolated showers and storms, and temps in the 80s for highs through the weekend. The pleasant morning should continue through the end of this week, with lows down in the mid 50s for the mountains and mid 60s in the Upstate. Aaaah... nice!