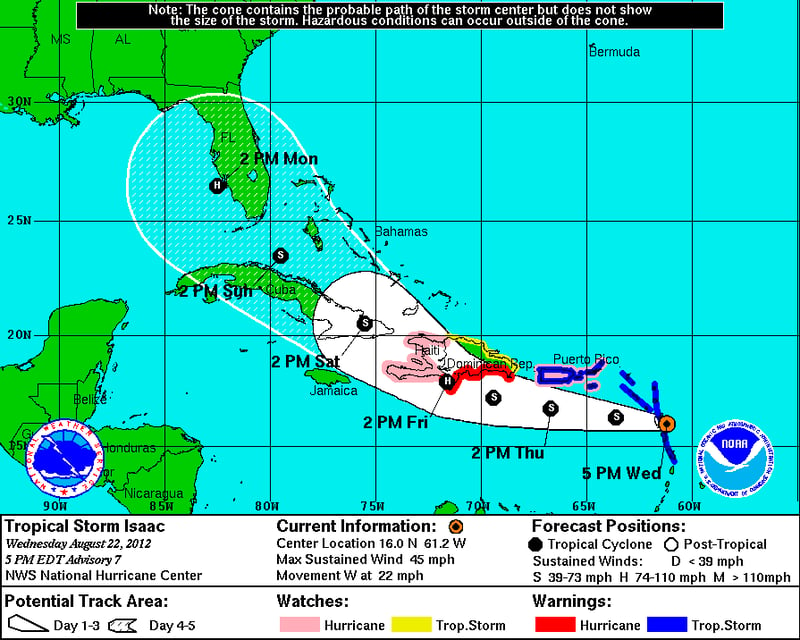 NHC forecast for Isaac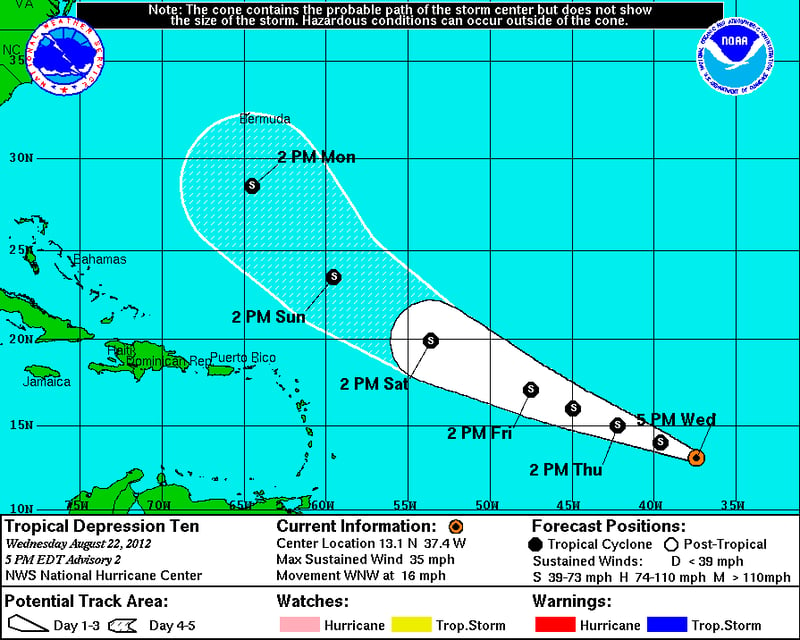 NHC forecast for 10
I'm liking the tropical forecast elements we have in play right now! Luckily, we don't have a lot of variables to worry about, but there are some things that could mess with the forecast. I'll start with Isaac...
Isaac is a strong tropical storm right now and is expected to become a category 1 hurricane tomorrow. Because it will interact with land, its intensity will wane a bit late this week, then it will have the chance to restrenthen as it approaches Florida, possibly as a category 1 storm. A lot can change at this point, but I think the NWS forecast is pretty good! With a strong high pressure ridge to the north, that should keep the storm from trying to make a run at an east coast landfall. It should eventually start turning north as it gets drawn in by a trough over the southeast. When it starts to turn north is in question, but it looking like it will be somewhere in the vicinity of Florida! Now, a couple of different things could happen. It could keep going west a bit and make it into the untapped warm waters of the Gulf of Mexico. If it does that, it could BLOW UP and become a major hurricane. The Euro model has been holding onto that solution for a while. However, Canadian and NAM take the storm north a bit early and have it approaching the Carolinas (I find this solution doubtful, given the strength of the high). Most of the best hurricane models, however, are going along with the track of NWS. It will be a watch and see thing, but I think with the 2 big players (the ridge and trough) it SHOULD be a clear cut forecast for a landfall somewhere in Florida.
If we get rain from Isaac, it would come late Tuesday into Wednesday. POSSIBLY lingering into Thursday. FLooding could be a concern if the storm slows down. Again, a LOT can change, but if it hold its current track we'll get some beneficial rains and possibly some severe weather.
T.D. #10 is in the central Atlantic. It will likely become a tropical storm, then slowly start moving northwest. The ridge that is helping to steer Isaac west will break down over the next few days, and allow #10 to move northwest a bit, and likely avoid the U.S.
As for our area, isolated showers and storms possible, otherwise pleasant temps in the 80s still!