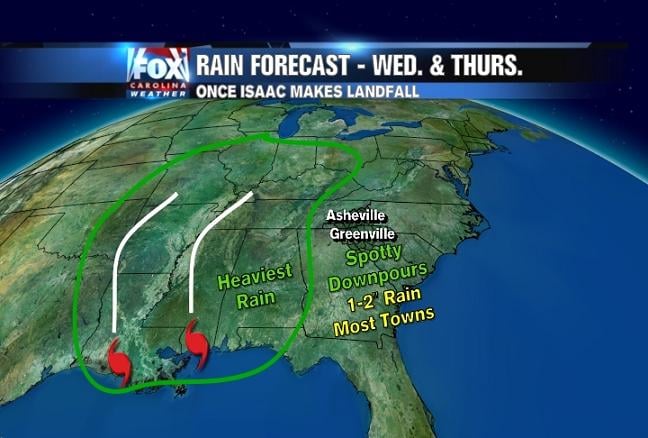 Track: Isaac is expected to make landfall somewhere between the western coast of Louisiana and the Alabama coast. Importantly, the trough of low pressure and weakness in the high pressure ridge to the north of Isaac is looking less and less impressive and also less capable of causing a northeastern turn in our direction. Still, there is a less-than-50% chance of a turn toward our area. So, we have to keep that possibility in mind knowing that strange things can happen with regard to tracks of tropical systems.
Tropical Humidity and a Front: It looks like a weak front draped across our area will interact with abundant tropical moisture being drawn in from the remnants of Isaac once it comes inland. This will lead to some scattered/spotty heavy rain showers and thunderstorms.
Timing: It looks as if Wednesday and Thursday will be the days to expect off/on scattered downpours. When it's not raining, expect high humidity along with a mostly cloudy sky. Just as the graphic says, we probably won't catch the steady rain unless the track were to shift east from what is forecast.