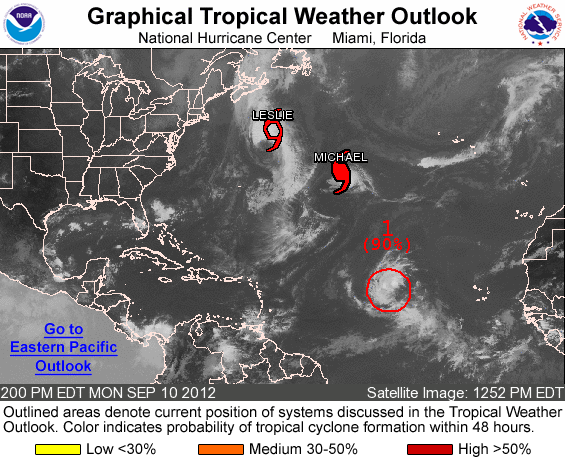 NHC look at current Atlantic storms
It's topic of most conversations today... our beautiful, fall-like weather! Overnight lows are cool and crisp, while afternoons are pleasantly warm! It's all thanks to the front that brought us storms Saturday. This cooler air should stay in place through the work week, then a cold front will make a run at the Carolinas this weekend. By Saturday we'll have more clouds, slightly more humid conditions, and a threat for showers.
Normal highs for this time of year are 84 for GSP and 79 for AVL. We'll be a few degrees cooler than that each day this week! Normal lows for this time of year are 64 for the Upstate and 58 in the mountains. Some spots will be up to 10 degrees cooler than that tomorrow morning!
Today is the peak of hurricane season, and we have an active Atlantic right now! Leslie and Michael continue to move north and NOT threaten the U.S., while there's a new area that could become Nadine by tomorrow. It is not expected to impact the U.S. either.
Over the next few weeks, conditions will become less favorable for hurricane development as El Nino conditions persist/strengthen in the Pacific. And speaking of Teleconnections... the NAO is forecast to be negative the next couple weeks. This means that we'll likely stay cooler than normal or around normal. The NAO is much more meaningful to us forecasters in the winter, when a negative NAO can often mean snow chances and arctic outbreak possibilities going up!