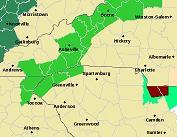 From NWS GSP. Flash Flood Watch counties in our area are shaded in green.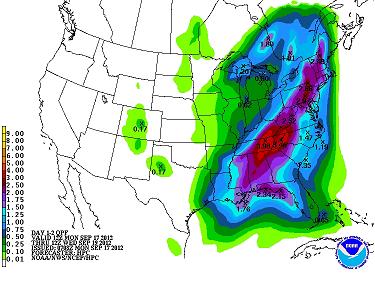 Good morning! Weather-wise, I don't think the forecast gets more "Monday" than what we've got in store today... so grab the umbrella and keep it around through today and tomorrow.
A strong low pressure system that is over the Gulf Coast this morning will press northeastward today and tomorrow, bringing soaking rains to our area. Through this morning and most of the afternoon, be prepared for scattered rain showers, with pockets of heavy downpours. A few rumbles of thunder are also possible, but I don't think we'll see any kind of severe threat today.
The steadiest and heaviest rain will come this evening, through the overnight and into the first half of Tuesday. A Flash Flood Watch has been posted for some of our mountain counties (see graphic at right) during this time period. The bus stops and morning commute will be especially soggy, with more areas affected. So keep the rain gear near the front door, because you'll need it again tomorrow.

By Tuesday afternoon, we'll still be on the lookout for scattered rain and t-storms as a cold front pushes through. This cold front could trigger a few severe storms locally - especially in our eastern counties, but overall I think the higher chance of severe storms will be further east of us.
Rainfall totals of 1-2 inches are likely in most spots, while locations under the Flash Flood Watch could see totals of 2-4+ inches (see QPF at right). Early Wednesday, a few showers are possible - but drier and cooler air will settle in during the afternoon. The dry weather sticks with us through the end of the week.
Highs today and tomorrow will hold in the low 70s in WNC and the mid/upper 70s in the Upstate. By Wednesday afternoon and through the remainder of the week, temps will cool off and comfortable, low humidity will return. We'll also see a lot of sunshine through the end of the week!