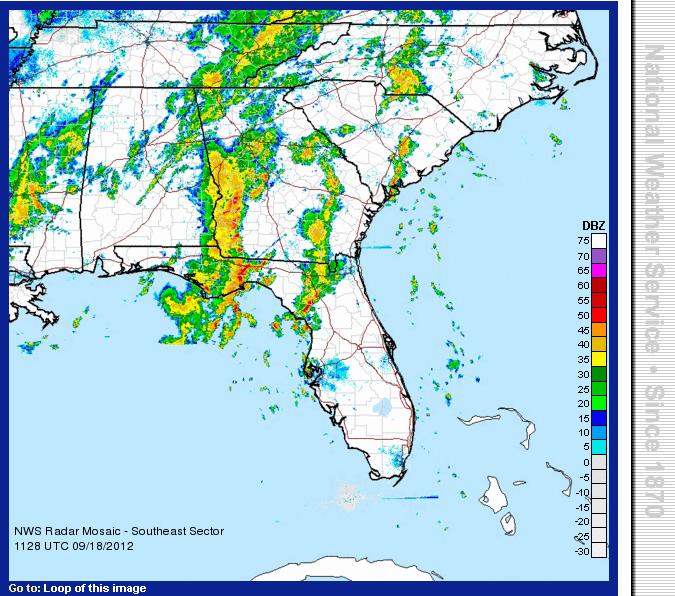 NWS Radar image around 7:30 AM
SPC Convective Outlook
Good rainy morning to you! It's one of those mornings that you'd love to turn the alarm off and get back under the covers, but unfortunately, it's a work day for many of us! The radar picture as of this writing (around 7:30 - see image at right) shows the rain beginning to fill in off to our southwest (through parts of central GA). This rain will move northeast, overspreading our towns over the next hour or two.
We'll keep the highest rain chances - and steadiest/heaviest rain through the rest of the morning through midday. The Flood Watch continues until noon for most of our WNC counties, along with the mountains of the Upstate and NE GA. Winds have also been breezy, so be prepared for gusts around 20 mph this morning - that could cause some 'umbrella issues' too!
By early/mid afternoon, the rain will begin to become more scattered. But, by that time we'll also watch for the chance that a few t-storms may develop ahead of a cold front. The higher risk of severe weather today will be further to the E and NE of us (see SPC outlook at right), but I think a few strong/severe storms are possible in our area - especially in eastern counties. The main threat of storms will come between 1 and 6 PM.
Afternoon highs will reach the low to mid 70s, so temperatures won't warm too much during the day with the cloud cover and rain showers through much of the day. By this evening, the cold front will push east of us and rain will begin to taper off - and it will end overnight with clouds beginning to clear.
Behind the front, we'll be cooler and drier on Wednesday (welcome back, comfy humidity!). Highs will dip into the upper 60s in WNC and the mid 70s in the Upstate - and nice weather will stick with us through the end of the week. Another front will bring an isolated shower/storm chance on Saturday (the first day of fall!), before another cool-down sets in for Sunday and Monday. Lows early Monday look like they'll range from the mid 40s to the low 50s!!