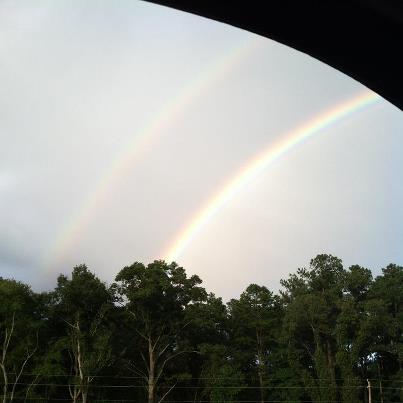 From Sandon Wilson
Many times around here, summer will go out with a bang! But, this time it will be a whimper! It will still be warm, but nothing HOT to wrap up the last 2 days before fall begins on Saturday!
Loved all the double rainbow pics we got yesterday, so I had to share other one on the blog! No more rainbows in our future for a while, but in the mountains we might see a couple late Saturday as a front moves in. The mountains will stand the best chance of some early weekend rain, while the Upstate should stay dry.
Saturday will be pretty warm in the mid 80s for the Upstate, but as a front moves through we'll notice MUCH cooler air by Sunday. Highs will drop about 10 degrees behind the front, and our nights will be downright chilly in some spots by Sunday and Monday nights! We'll be in the 40s in the mountains and low 50s for the Upstate. Can't wait!