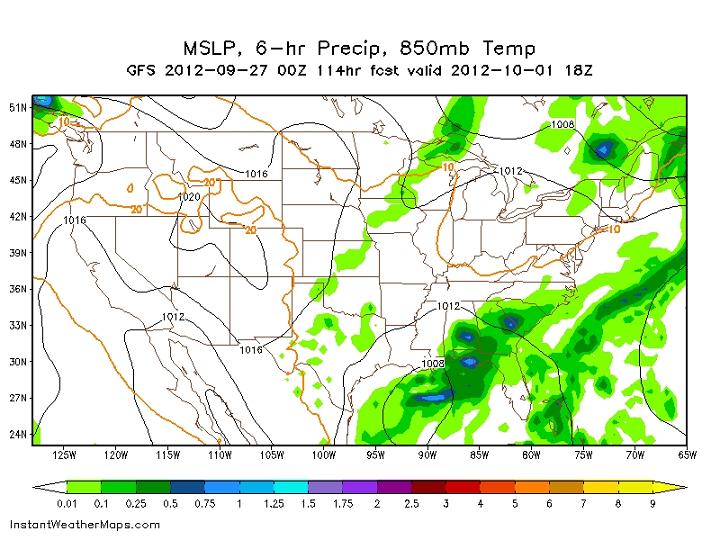 this image shows a projection of accumulated precipitation from Monday morning until the early afternoon
Warm Afternoon: As of 12:30 this afternoon, temperatures have warmed into the 76°-80° range for many communities and towns around the Upstate and Western North Carolina. Afternoon highs are going to range between 83° and 86° in the Upstate with upper 70s in the Mountains and near 80° in Western NC valley towns. If this is summer's last punch in late fall, then I will take more of it because it doesn't feel real hot outside at all (low humidity being the key factor). At least we will stay well below 90°. Comparatively, it looks as if Friday will be about the same as today temperature-wise.
Warm Spell Gone by Weekend: If you are enjoying the sunshine, it looks like clouds will take back over for a number of days this weekend and into early next week. This added cloud-cover means temperatures will remain in the 60s and 70s on Saturday and Sunday. The clouds will move overhead in response to a system developing in the northwestern Gulf of Mexico combining forced with an upper-level low pressure system moving south from New England.
Weekend & Early Week Rain Opportunities: Given the weakness of this system in the northwestern Gulf of Mexico and its distance from us, it's hard for me to see much chance of much measurable rain coming down in very many places on Saturday or Sunday. While areas to our south and west deal with scattered rain and a few storms, it looks like we will see more of a gray sky with all the cloud-cover and very little rain around here. By Monday, that system responsible for rain to our south, gains a bit of momentum and strength as it moves a bit closer to us. The status on this could change, but the latest information suggests some widespread rain potential on Monday, but still spotty development at best.
Tropics - Quiet: Storm activity is clearly winding down in the tropics. So far it's been yet another hurricane season that can be filed in the "not much happened" category and there isn't much time left for that to change. Even though the tropics have been quiet lately, October has always been a month where things can get active quickly. For instance, when a cool front stalls out in the central Gulf of Mexico, a tropical circulation can be generated. We will hold off until early November before ignoring the tropics and turning our attention toward the warm and cold stretches of winter.
_________________________________________________