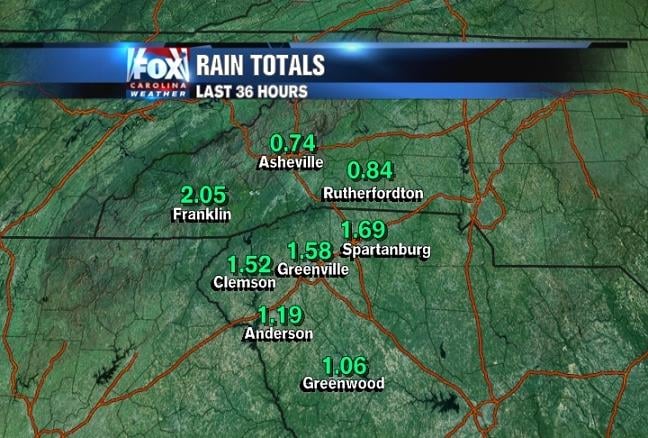 Foggy/Rain Monday: While it may not have been foggy all day long, the cloud deck was literally 100-200 feet off the ground for much of the day in many towns around here. Occasional rain has fallen throughout the day, but most of it fell last night and this morning.
Rain Totals: Since yesterday (36-hours), we have racked up some impressive rain totals. Most every Upstate and northeast Georgia town picked up between 1" and 2" of rain. Asheville and Rutherfordton have had the lowest totals at 0.74" and 0.84.
Tuesday: The key to tomorrow's forecast is recognizing how slow this system is moving. Due to the slow movement, a southwest flow will keep rain and a few storms in our forecast from sunrise through early afternoon before some clearing occurs by late afternoon or evening. Some towns could soak in an additional 0.5" or so before the rain ends late Tuesday.
Mid-Late Week: Sunshine will come back as temperatures rise. Most of the day-time hours this week will be spent in the 60s and 70s with just a few hours in the low 80s Thursday and Friday afternoons.
____________________________________________________________________________