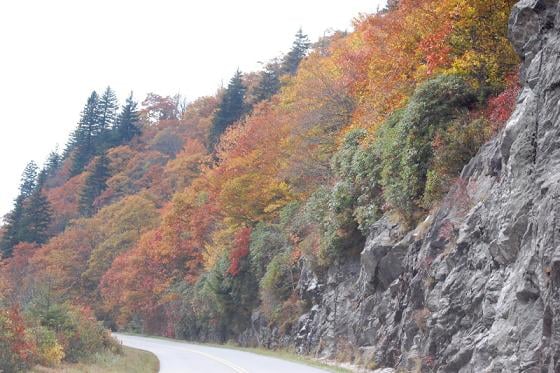 fall colors on the Blue Ridge Parkway
Welcome to Fall! We will get a big dose of cool, fall weather during the next couple of days!
Sunday: Expect a mostly cloudy sky as a strong cold front progresses through our area. This front doesn't have much rain associated with it, but it does have a lot of cool air behind it! Still, we will have a shot at a few rain showers, but most of the day will be dry. A 30% shot of a brief shower for any given neighborhood or town will cover it. Temperatures will be the big story on Sunday as highs struggle to make it into the low-middle 60s for the Upstate/NE Georgia with 50s in Western NC towns.
Monday: Expect even cooler weather on Columbus Day. Sunrise will be the coolest time of the day (as usual). Temperatures will have sunk into the 40s in Upstate towns and middle-upper 30s for Mountain towns at sunrise. Also, the same clouds which were reluctant to leave on Sunday will be a tough out on Monday as well. I do think we'll see more sunshine, but expect another day of more clouds than sun just like Sunday. With the clouds and the cool breeze, afternoon highs will only reach the upper 50s to around 60 for the Upstate with 50s expected across Western NC.
Rain Opportunities?: October is usually a dry month for us. With a consistent northwesterly flow of dry, cool air during the next five days, it will be TOUGH to get any sort of solid rain opportunity to roll through here. We'll enjoy the sunshine and cool, fall temperatures for now and hopefully some steady rain will move our way by mid-October.
_________________________________________________________