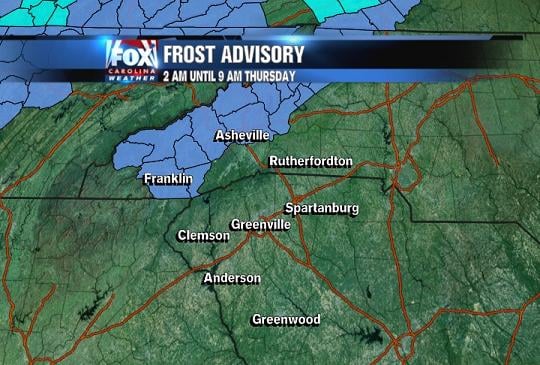 If you read Kendra's post from last night, you heard her lamenting the clouds that just wouldn't budge on Tuesday! We hate forecast days like that, but I did get a few people say they were okay with the clouds and cool temps. If you've been waiting for the sunshine, it's coming TODAY.
We've already cleared out in parts of the area, with low clouds and some light fog in other spots. By late-morning and through the afternoon, you can expect mostly sunny skies in the Upstate and partly cloudy sky cover in the Mountains.
A cold front will pass today, but rain isn't going to be a feature with this one. Moisture in our area is going to be very low, so I've removed the 20% chance of a shower in the Mountains. TN border areas could see a raindrop or two - but the chance is so low I left it out.
While the front won't bring us rain, it will cool us off tonight. Winds will be breezy in WNC today (NW 8-14 mph), but will relax overnight. With light winds and clear skies, temperatures will drop into the mid 40s in the Upstate and the upper 30s in the Mountains. Frost Advisories have been posted for much of our WNC territory - see image at right - so protect those plants or bring them inside!
Tomorrow's highs will dip several degrees, but temperatures return to normal on Friday and through the weekend. It looks like we'll stay dry across the Upstate this weekend, which is great news for everyone planning/working/visiting Fall for Greenville!