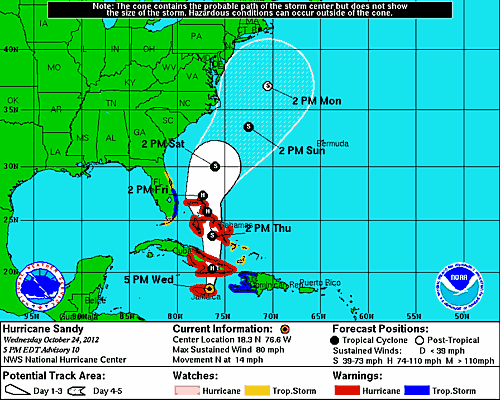 Latest model guidance is showing a more westward track of Sandy (GFS has jumped onto the Euro bandwagon). A cold front is expected to move through the Carolinas this weekend, and with an associated trough, keep Sandy off the Carolina coast. But, it will potentially veer into the U.S. as it reaches the northeast coast (or maybe as far south as Virginia).
So, the "Perfect Storm" thoughts from my blog yesterday are looking a little more possible at this point. The northeast could get battered with high winds and torrential rain early next week. Possibly a historic storm in the making...so those along the northeast coast from Virginia to Maine need to be on guard as the forecast evolves.
As for impacts along the Carolina and Georgia coasts... high surf and some outer rain bands will be possible if it stays along the center of the track of NHC. If it moves farther west, rain could become a bigger issue. It isn't expected to be a hurricane as it passes the Carolinas, so wind should be as big of an issue.