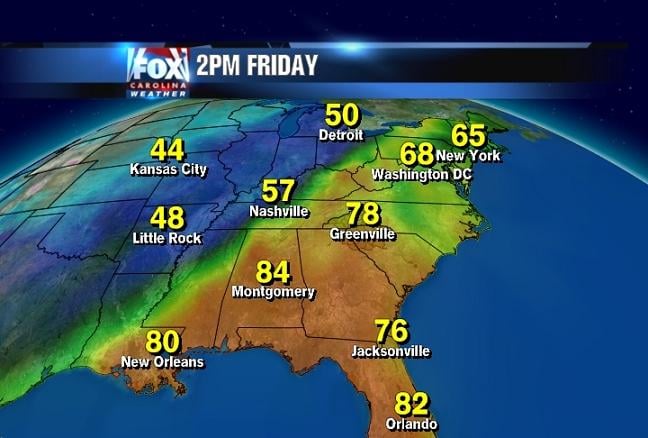 We are essentially in waiting mode with Sandy and where the storm tracks. Currently Hurricane Sandy is in the early stages of a full-fledged transition from a purely warm-core tropical system to a cold-core/warm-core hybrid by early next week. If there were any changes to the thinking of Sandy delivering major impacts to the northeast and bringing chilly air in our direction, it would be worth pointing out, but there are no changes to that forecast at this time.
Locally, we have a cooler weekend on the way as a cold front will move past us tomorrow. On the graphic to the right, you can see how drastic the contrast is in temperatures ahead of this front and then back behind it! Winds have picked up ahead of this front as it has been breezy at times day across the Western Carolinas. Expect temperatures to slowly fall tonight as a blanket of clouds moves in just ahead of the cold front. Then, tomorrow we'll notice a change in wind direction as some cool air spills into our area.
We'll have more on this weekend's forecast tonight on Fox Carolina News as Kendra will have updates on Sandy and she will also be having some fun out at Greer High School for our Friday Night Blitz Game of the Week.
I'll be closely following the new information on how the cold air will be interaction with the tropical system and the eventual track all weekend. As we have pointed out, this dangerous storm (for the Northeastern US) will have some indirect impacts on our area early next week. Stay tuned for more updates.
____________________________________________________________________________