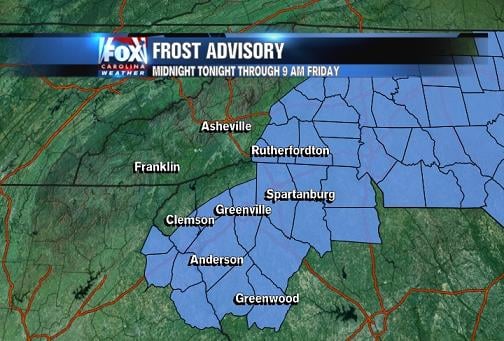 Good morning - hope you all had a wonderful Halloween! If you're snacking on some "fun size" candies this morning, have some coffee or hot cocoa with it... because it's cold! Temps have dipped well into the 30s across the area - we're reporting low 30s in parts of the southern and eastern Upstate.
While the temps are very cold, we were only watching for patchy frost this morning (only Cherokee and Union Counties have Frost Advisories in effect through 9 AM today). The reason is that the air is very dry, so in many areas we won't drop down to the dew point. More moisture will move in late today and tonight, and with cold temps on tap through the upcoming overnight period, we'll be watching for a better chance of widespread frost tonight. The NWS has already posted Frost Advisories for most of our area - in effect from midnight to 9 AM Friday (note: the growing season has ended in the Mountains so they won't have any more advisories posted in those counties/areas).
Temperatures will remain several degrees below-normal today - rising into the low 60s in the Upstate and the mid 50s in the Mountains. However, winds will relax today and won't be as gusty as they were through the first half of the week. The lighter wind, combined with mostly sunny skies area-wide, will make it feel much more comfortable to be outside this afternoon.
Highs on Friday and Saturday will return closer to seasonal levels, with sunshine and dry time lingering into the start of the weekend. A low pressure system looks to bring some rain chances to our area by late-weekend and early next week, but the latest models are not showing much in the way of wet weather. For now, we'll mention a small chance of showers Sunday, Monday and Tuesday - but stay tuned for updates to that forecast as we get closer.