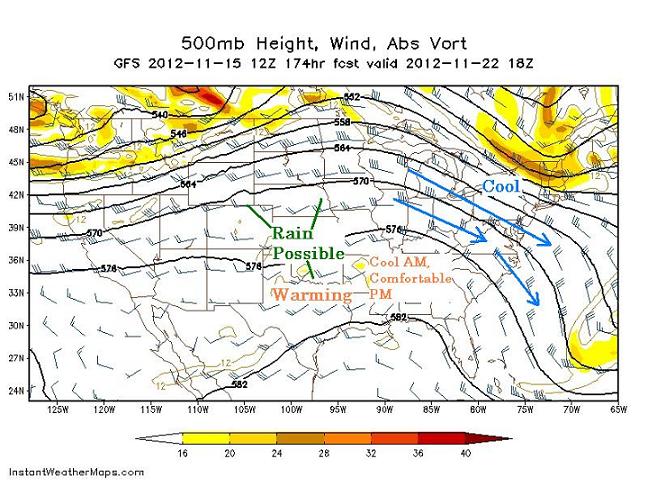 Sunny Days Are Back: After some cloudy, cool days, it's safe to say that there are some people looking forward to some sunshine. The cloudy, cool days were a refreshing change though since we have so many sunny days around here, especially in the summer!
Friday will be pleasant once we get past cool morning temperatures. Afternoon highs will close in on 60° for Upstate/NE Georgia towns with middle 50s for many Western NC towns with more sun than clouds.
Saturday will be another nice day with more sun than clouds as early afternoon temperatures reach the upper 50s for the Upstate and low-middle 50s for Western NC.

Beyond the 7-Day: Alright, technically this Thanksgiving version will be just on the edge of what is deemed seven days into the future.
The image I have posted is from this morning's run (12z) of the GFS forecast model. A flat, less amplified (non-stormy) flow is shown with some cold air drainage in the eastern part of the US, mainly northeast of us. There is quite a bit of agreement taking shape on much of the data we look at indicating that Thanksgiving may be a good day around here without any threat of rain. While a cold morning may be something to look for, a would be willing to bet there is a good chance for a comfortable afternoon.
We will have to pay attention to the energy coming into Texas and Oklahoma next week. Any change in the timing of that energy could put a chance for rain into the forecast around Thanksgiving. It's more likely this would come in the days following the 22nd.
____________________________________________________________________________