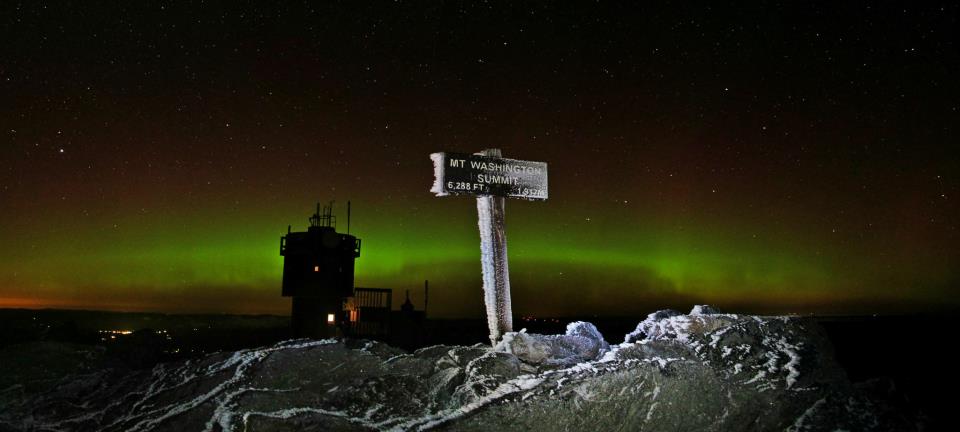 this picture was taken on November 14th from atop Mt. Washington (New Hampshire) with a display of the Aurora Borealis (the northern lights) in the background
Aurora: An aurora is "a natural light display in the sky particularly in the high latitude regions, caused by the collision of energetic charged particles with atoms in the high altitude atmosphere. The charged particles originate in the magnetosphere on solar winds and, on Earth, are directed by the Earth's magnetic field into the atmosphere.
In northern latitudes, the effect is known as the aurora borealis (or the northern lights)." http://en.wikipedia.org/wiki/Aurora_%28astronomy%29
Mt. Washington Weather Facts/Phenomena: "Located along the Presidential Range of mountains in New Hampshire at an elevation of 6,288ft, the weather of Mount Washington is notoriously erratic. This is partly due to the convergence of several storm tracks.
The vertical rise of the Presidential Range, combined with its north-south orientation, makes it a significant barrier to westerly winds. Low-pressure systems are more favorable to develop along the coastline in the winter months due to the relative temperature differences between the Northeast and the Atlantic Ocean. With these factors combined, winds exceeding hurricane force occur an average of 110 days per year. From November to April, these strong winds are likely to occur during two-thirds of the days.
Mount Washington once held the world record (still the Northern Hemisphere and Western Hemisphere record) for directly measured surface wind speed, at 231 mph (372 km/h), recorded on the afternoon of April 12, 1934. Although this record was surpassed in Cyclone Olivia in 1996, this wasn't reported as official until 2010. It can still be argued that Mount Washington holds the record for the highest surface wind speed recorded 'by man'; the new Australian record was measured by an automated station while no human was present, while the Mount Washington wind gust was actually measured by a human being."
http://en.wikipedia.org/wiki/Mount_Washington_%28New_Hampshire%29
__________________________________________________________________________